Onnit's Virutech is formulated to enhance your immune system and combat the everyday stressors that lead to sickness, stress, and oxidative damage that damages organs, joints, muscles, and DNA.
Boasting six key ingredients, Virutech's proprietary blend ensures your immune system is working beyond its standard to limit fatigue, reduce inflammation, improve cognitive function, and prevent numerous diseases.
Key Ingredients & Why They Work:
Quercetin belongs to a group of plant pigments, commonly found in fruits, vegetables, and flowers. As an antioxidant it has shown promise in reducing allergies, asthma, inflammation, and hay fever. It also promotes healthy cholesterol levels and reduces the risk of atherosclerosis, hypertension, cancer, rheumatoid arthritis, and hypertension.
L-Lysine is an essential amino acid that is necessary for human health but is not synthesized in the body. It is commonly acquired through eating meats, nuts, and legumes. A lack of lysine can cause fatigue, anemia, dizziness, and agitaion. Its benefits include converting fatty acids into energy, lowering cholesterol, and supporting the production of collagen—a substance important for bones, skin, tendons, and cartilage. Research suggests regular consumption of L-lysine may prevent herpes outbreaks and through boosting calcium absorption, it may also limit osteoporosis.
Alpha-Lipoic Acid (ALA) is commonly used to scavenge free radicals and chelates metals.  As a crucial organosulfur compound, it supports cellular activity by interacting with vitamin C and glutathione, and by allowing the production of Vitamin E—a key vitamin in heart and blood vessel health. It also helps the body decrease Advanced Glycation End-Products (AGEs), which are a factor in aging and in the development or worsening of many degenerative diseases, such as diabetes, atherosclerosis, chronic renal failure, and Alzheimer's disease.
Selenium is an essential element and antioxidant. It plays a critical role in reproduction, thyroid hormone metabolism, DNA synthesis, and protection from oxidative damage and infection. It's benefits to DNA and the immune system suggests selenium may prevent cancer, reduce inflammation, and inhibit cognitive decline.
Zinc is another essential amino acid the body cannot produce. Zinc is used to boost the immune system, treat the common cold and recurrent ear infections, and prevent lower respiratory infections, rashes, diarrhea, and many more conditions.
Vitamin C is a potent antioxidant and one of the most common immune-boosting nutrients. By donating electrons, vitamin C is able to reduce oxidative stress and limit its impact on the body. It is necessary for the synthesis of collagen and neurotransmitters. Its other key benefits are reducing stress, combatting colds, reducing stroke risk, and reducing inflammation.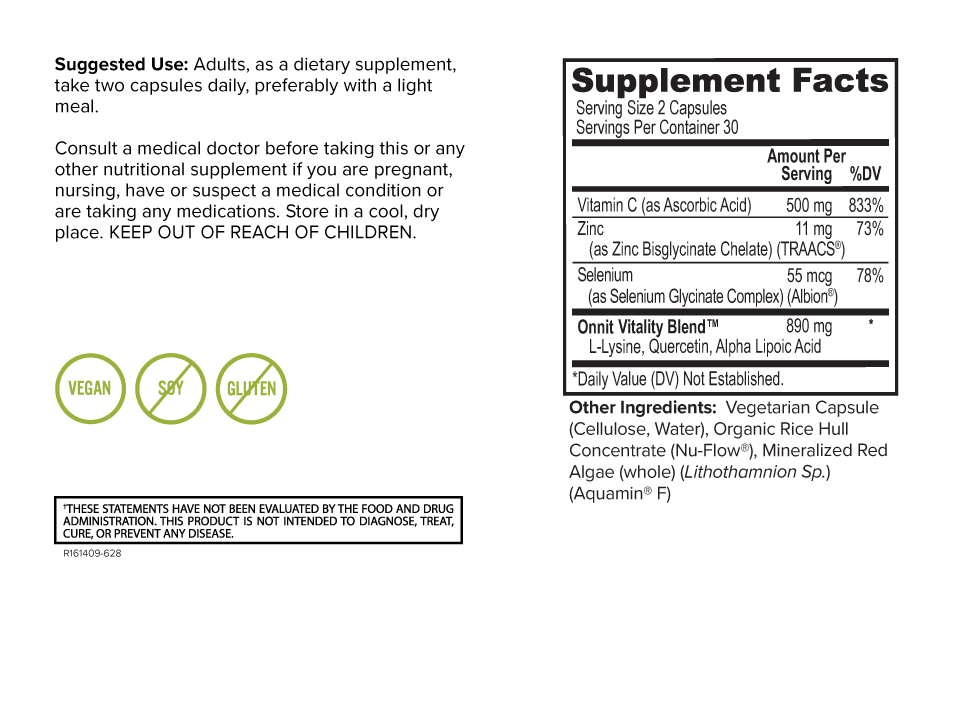 Why We Love It:
Reduces oxidative stress
Enhances the body's natural defense against immune challenges
Eliminated free radicals from the body
Reduces inflammation
Promotes healthy heart
Offers two essential amino acids
Vegan
Non-GMO
Soy and gluten-free