Whether your favorite sport is cardio or strength-based, everything is possible thanks to a healthy heart. To keep your heart and blood vessels performing their best, we need to keep chronic inflammation down, and nutrient and antioxidant status up. This is all the more important when high performance is a necessity, which is why HoneyColony is proud to introduce the Healthy Athletic Heart Bundle.
What Is In The Healthy Athletic Heart Bundle?
The Healthy Athletic Heart Bundle combines the superfood power and mineral metabolism-regulating benefits of the Healthy Heart Bundle with extra antioxidant support:
Hydra+ Molecular Hydrogen Ultra Dose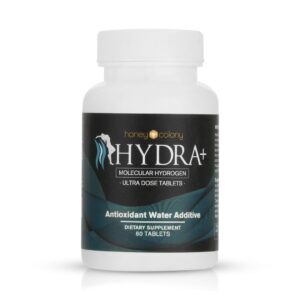 Molecular hydrogen is perhaps the most talked about antioxidant in the world, thanks to its all-around natural healing abilities. With Hydra+, you can easily obtain a high concentration of H2-infused water in an open glass.
Over 1,000 medical studies illustrate the benefits of molecular hydrogen, including the ability to fight cancer and aging itself.
What Is Hydra+ Molecular Hydrogen?
Molecular hydrogen is the combination of two hydrogen atoms, and being the first and lightest element on the periodic table, it has better bioavailability than other antioxidants. And while oxygen therapy has a number of benefits, we need the support of both hydrogen and oxygen for optimal health.
To use Hydra+ tablets, simply place them in any liquid beverage and wait for two minutes so they can dissolve. With the millions of tiny hydrogen bubbles now in your glass, your body can start receiving their benefits almost instantly.
While hydrogen has shown therapeutic effects since the 18th century, it took a 2007 Nature Medicine article for it to be truly accepted. Now, molecular hydrogen is so important that the Molecular Hydrogen Foundation was set up to continue studying its benefits and refining its uses and treatment protocol.
Benefits of Hydra+ Molecular Hydrogen
How does Hydra+ benefit the body?
High bioavailability allows molecular hydrogen to easily reach and destroy free radicals harming DNA, RNA and proteins.
As a signalling molecule, H2 regulates the communication and function of cells.
Through adding additional electrons, H2 provides additional energy to the body.
Potential benefits for hydration.
What's New In Hydra+
Better taste
Less residue
Higher H2 concentration
Less prep time
Easier to use
More beneficial magnesium
Hydra+ Active Ingredients:
Hydra+ is made of three natural ingredients:
Magnesium: Each dose contains 60mg of magnesium, giving you a much-needed top up of energy. We need magnesium for over 300 reactions in the body, but 80% of us are deficient.
Malic and fumaric acid: These molecules are part of cellular energy production. Malic acid also improves mental clarity and fatigue, while fumaric acid promotes detoxification and acts as an antioxidant.
Maltose: Promotes catalase activity, an antioxidant enzyme.
Molecular hydrogen: Hydra+ contains 2-4ppm of H2, making it more potent than other, often riskier formulations. Each infused bottle becomes a powerful antioxidant, with a -600 to -800mV antioxidant potential (ORP).
Why We Love Hydra+ Molecular Hydrogen For The Healthy Athletic Heart Bundle:
Regulates your own antioxidant systems, including glutathione and superoxide dismutase.
Provides energy while limiting muscle fatigue
Reduces inflammation and cancer risk
Improves mental clarity
Transforms the worst free radicals into plain water
Improves energy balance, gene expression and cellular communication
Supports hydration
How To Use:
Drop one tablet in an open glass of 10-12 oz. of cool water, juice (fruit/vegetable), tea, or other water-based beverage. Wait for the tablet to react and dissolve completely (<2 min). Observe a cloud of H2 bubbles and drink immediately, once the tablet is fully dissolved. Use 1 to 3 tablets per day depending on your needs.
WARNING: If placing Hydra+ tablets in a glass bottle, do not place a top on the bottle until the Hydra+ tablet has completely dissolved in the liquid solution. The bottle will explode.
Try Hydra+-infused water before and after physical activity to limit oxidative reactions and to enjoy more rapid recovery of physiological function. Hydra+ is especially useful for sports participants.
Water can be distilled, RO, purified, spring, or potable tap water. Sparkling water and high mineral content (>500 ppm Total Dissolved Solids) water should not be used.
Fruit juice or vegetable juice can be fresh or prepared. Do not use Hydra+ with juice blends, smoothies, or protein drinks.
NOTE: Magnesium mineral residue will be observed on the bottom of the bottle after several Hydra+ tablets are reacted. This residue can easily be removed by simply pouring in a small amount of white vinegar, sealing the top and agitating it until the residue dissolves. Rinse the bottle with clean water.
Equilibrium Energy Superfood
Equilibrium Energy Superfood is HoneyColony's own special blend, formulated to give you high-performance energy from organic and wildcrafted ingredients.
The core ingredient of our superfood blend is certified organic highland honey. Another 11 superfoods are added to restore harmony to our bodies; all organic or wildcrafted, and all with potent health benefits. Together, they protect your heart and blood vessels so you can be your best and combat their aging process.
To ensure that every jar is high-quality and stays that way, Equilibrium Superfood is made in small batches and stored in MIRON Biophotonic glass, which only lets sunlight in.
Through stimulating yet balancing the nervous system, giving you a performance boost and relieving inflammation, Equilibrium Energy Superfood will protect your heart in several ways.
Health Benefits
Active Natural Prebiotics: Prebiotics are essential for ensuring that probiotics, whether you consume them as fermented foods or supplements, stay in the colon. This allows them to maintain your resistance to infection, support digestion and calm inflammation by regulating the immune system.
Phytoplankton: Phytoplankton are some of the most nutrient-diverse and -dense foods on the market. Through supporting cellular regeneration, reducing inflammation, promoting DNA repair and increasing our antioxidant status, your heart is protected in all the most important ways.
Blue Algae: Blue Algae has been well-loved for centuries thanks to its many health benefits. Today, we know it works by boosting heavy metal detoxification, protecting the blood vessels, and maintaining metabolic health.
Medicinal Mushrooms: Medicinal mushrooms are a diverse group of remedies with anti-inflammatory, anti-viral, antidiabetic and even anticancer properties.
Double- Directory Adaptogenic Herbs: Adaptogens assist in improving our resilience to stresses, from junk food to toxic people. They both stimulate the nervous system and regulate hormonal production for a side effect-free energy boost.
ORMUS: Mineral-rich Ormus has many suggested health benefits, including increased energy and strength; better sleep; improved immunity; and more balanced brain function.
Ginger: Ginger is much loved as many preparations, from teas to supplements, thanks to its number of health benefits. It can soothe menstrual pain, nausea and inflammation; while increasing cognitive processing and reducing bacterial growth.
Organic Turmeric: Turmeric has been used for thousands of years as a medicine and spice, and is now one of the most well-researched herbal medicines. It can calm inflammation, destroy bacteria, improve immunity and potentially protect against cancer.
Core of Bee Products
Certified Organic Highland Honey: Certified Organic Highland Honey is antibacterial, anti-inflammatory, helps to neutralise toxins, relieves pain and can relieve a cough better than drugs. It comes straight from the beehive, maintaining its medicinal properties and flavor. Honey can have an alkalizing influence on the body, and Ayurvedic practices in India describe honey as having a balancing effect on all three primitive material aspects of the body.
Bee Pollen: With over 5,000 enzymes and co-enzymes; B complex vitamins; vitamins A, C, D and E; selenium, lecithin and phytochemicals, bee pollen is one of the most nutritionally complete natural foods. Bee pollen's antioxidant, anti-inflammatory effects can also protect your heart and blood vessels against everyday stresses.
Bee Propolis: Bees use propolis to sanitize and repair their hives, thanks to its antibacterial, antifungal, antiviral and antioxidant properties.
Royal Jelly: Royal jelly nourishes queen bees and their larvae. If you have asthma, high cholesterol, skin problems or are going through menopause, royal jelly may be right for you.
Why We Love Equilibrium Energy Superfood For The Healthy Athletic Heart Bundle:
All ingredients are organic or wildcrafted, and certainly non-GMO
Free of gluten, soy, sugar, nuts and wheat
Promotes long-lasting cellular energy and improved oxygen utilization
Boosts DNA and cell repair
Boosts antioxidant status
Supports electrolyte balance
Anti-inflammatory, anti-bacterial and anti-viral support
All bee products support family-owned California farms
Jar material filters out unwanted wavelengths of sunlight
Just Thrive K2-7
Vitamin K2-7 is also known as "Activator X", a nutrient that Dr. Weston A. Price discovered was prevalent in the healthiest communities' diets.
The first concrete evidence on vitamin K2 came from eastern Japan, where natto consumption is common. This strong-smelling fermented soy food is the highest source of K2. Some say that K2 is behind the lower rates of age-related diseases in east Japan, including osteoporosis and heart disease.
Vitamin K2 works best with vitamins A and D, two other fat-soluble vitamins prized by Weston Price, because it activates beneficial proteins that A and D instruct our cells to produce. As vitamin K2 assists in bone development, the wider faces and lack of deformity seen in healthy populations point to a particularly beneficial role of the hormone.
Health Benefits of Vitamin K2-7
Vitamin K2-7 is in every tissue of our bodies, as it is necessary for many key functions. The vitamin:
Supports growth and development, including in reproduction
Reduces the risk of heart disease, cancer, diabetes and osteoporosis.
Assists in mineral metabolism
Protects against tooth decay
Prevents artery calcification
Protects against tooth decay
Supports brain health.
May prevent the negative side effects of vitamin D supplementation, preventing the calcification of arteries and tissues if you have unabsorbed vitamin D.
The stability and potency of Just Thrive K2-7 is reason enough to choose it over other supplements. It uses a very stable compound which won't degrade and lose potency over time. This is important because vitamin K2 is light and heat sensitive, but Just Thrive K2-7 is able to withstand bottling and encapsulating.
Additionally, Just Thrive Vitamin K2-7 is the only retail product with the best therapeutic dose, of 320 micrograms per day. The usual commercial dose is half of this, but research shows that the larger dose is superior for therapeutic effects.
Just Thrive is also the only vitamin K2 supplement available to the public with added magnesium and zinc. These are essential for vitamin K2 to function, but most people are deficient in them.
Why We Love Just Thrive K2-7 For The Healthy Athletic Heart Bundle:
The only vitamin K2 supplement with the Ultra Absorption Complex containing magnesium and zinc.
Pharmaceutical-grade K2 supplement.
Free of gluten, dairy, sugar, soy, allergens, corn, salt and tree nuts.
Friendly to Paleo, Keto and Vegan diets.
Only commercial supplement with 320mcg of vitamin K2.
Supports a healthy heart and blood vessels, as well as the brain, nerves and bones.
Formulated with MenaquinGold™ for 100% guaranteed potency