With the Porta Squatty, you can enjoy the benefits of squatting anywhere the road takes you. The Squatty Potty Porta Squatty provides all the benefits of the Squatty Potty into a lightweight (1.8 lbs), durable, and inconspicuous frame (discreet bag included) to keep your bowel movements unobstructed no matter where you are.
If you travel, Porta-Squatty is the perfect companion to relieve those bowel blues. Pooping on the go has never been more fun or easy- just unfold and go!
Health Benefits of the Squatty Potty
The alignment of the recto-anal angle is essential for smooth bowel elimination. The recto-angle is only open when we squat and our butts are below our knees. Unfortunately, our toilet bowls place our knees at 90 degrees making butt and knee on the same angle. This causes excessive straining with the potential for damage to the recto-anal region and, possibly, to the colon and other organs associated with bowel movements.
For instance, constipation is caused by many factors and is only worsened with the use of common toilet seats. Constipation is one of the most common gastrointestinal (GI) problems, affecting about 42 million people in the United States. The difficulties of constipation are caused by the obstructive nature of the recto-anal angle and its association with the sitting posture many of use.
By elevating the knees, the Porta Squatty allows for a fully relaxed puborectalis muscle (fully open recto-angle) and a smooth bowel movement; most importantly, the Porta Squatty allows you to enjoy full bowel movements no matter where you are. Once folded, it's small enough to keep in a tote or carry-on bag, allowing you to use it anywhere: hotels, homes of friends and family, work, airports, restaurants, and sporting events. Additionally, the durable plastic is easy to wash and clean off, keeping dirt and bacteria away, and out of your carry bag.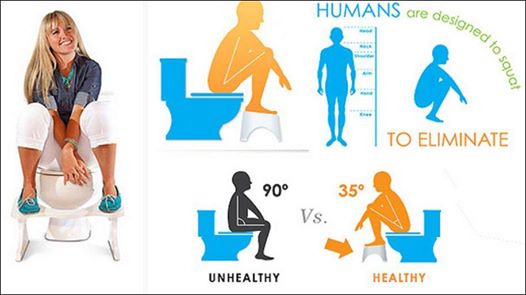 Why We Love It:
Strong, durable plastic
Easy to fold and unfold
Discreet carry bag included
Easy to clean and store
Perfect for the traveler or those with smaller bathrooms
Helps with Constipation
End hemorrhoids
Prevents colon disease
Addresses pelvic floor issues
Makes pooping more effective and fun
Economical and durable
Watch and learn about the effects of improper toilet posture and how it can affect your health: Squatty Potty Porta Squatty can help with straining issues such as hemorrhoids, pelvic organ prolapse, constipation, bloating, and IBS: