Under "color of law," it is a crime for one or more persons using power given by a governmental agency (local, state, or federal) to deprive or conspire willfully to deprive another person of any right protected by the Constitution or laws of the United States.
The Genesis II Church of Health and Healing is NOT a for-profit corporation. It is not a corporation but a "free Church" that operates under God, the Creator, and the rights of the 1st Amendment of the organic U.S. Constitution. It has the God-given right to exist and practice its beliefs without any U.S. Government interference whatsoever! The U.S. Government or any agency or entity of the U.S. Government has NO authority or power over the Genesis II CHURCH of Health and Healing. It does NOT operate under the Uniform Commercial Code (UCC) and is not subject to ANY of its "laws."
The Offenders:
The FDA
Donald D. Ashley
Director, Office of Compliance
Center for Drug Evaluation and Research
Food and Drug Administration
FTC
Richard A. Quaresima
Acting Associate Director, Division of Advertising Practices
Federal Trade Commission
Civil Case #20-21601
U.S. District Judge Kathleen M Williams
U.S. Attorney David Frank R. Goldstein – Washington, D.C.
U.S. Attorney Mathew James Feeley – Washington, D.C.
Criminal Case # 20-mj-03050
Magistrate Judge Alicia M. Otazo-Reyes
U.S. Attorney Michael B. Homer – Lead Attorney (Signed complaint about denied bail)
Magistrate Judge Jacqueline Becerra
U.S. Attorney Arriana Fajardo Orshan (Submitted Arrest Warrants)
Magistrate Judge Laura Fleischer
Magistrate Judge Edwin G. Torres
Criminal Case # 21-20242
Chief Judge Cecilia B. Altonaga 
U.S. Attorney Michael B. Homer
U.S Attorney John Charles Shipley Jr.
Sheriff Charles R. "Ricky" Wells. Sheriff of Manatee County, Florida.
Warden E.K. Carlton – Warden of Federal Detention Center, Miami 
The Timeline Of The Deprivation Of Rights And Conspiracy Of Rights Against The Genesis II Church And The Grenon Family 
The Grenons have been kidnapped by the Department of "Justice" and have been unfairly held as political prisoners for over 500 days without victims, bail, and intent to commit any violation. 
So why can't they go home?
For the past 11 years, the Grenons, the Genesis II Church of Health and Healing founders, have trained over 2000+ Health Ministers. These Health Ministers are competent in using the Health Sacraments of the Genesis II Church in over 140 countries. The Grenons have taught 63 educational seminars in 20 countries with thousands attending. Tens of thousands of testimonies of "recovered health" have come in from around the world in the 15 years that the Grenons have successfully and safely treated people with chlorine dioxide.
In 2016, Bishop Mark Grenon established the G2VOICE Podcast with over 250,000 downloads in four years. Mark and his son Joseph would read ten testimonies of recovered health from various illnesses each week coming in from worldwide. At the time of his arrest, over 1,100 testimonies from around the world had not been read!  
Also, in 2016, Bishop Mark published his first book, Imagine a World Without Disease. Now there are two more volumes he has written. These books cover what the G2Church has done worldwide until the year 2020. 
When the so-called "Pandemic" started in early 2020, the G2Church was helping restore health from the Coronavirus, which has now been renamed COVID-19. They were providing care by donations from sacramental products to produce chlorine dioxide, and the protocols were being used effectively and with great success. 
The attack of the FDA via "Quack Watch" came on April 8 when the Genesis 2 Church received a warning from the FDA to immediately stop providing G2 Sacraments. Bishop Mark Grenon responded to the FDA warning with a 35-page letter explaining that this agency has NO authority to demand any church to stop the practice of their beliefs and sacraments, which are protected by the 1st Amendment of the United States Constitution. The letter was ignored entirely. That's when the Department of Justice got involved. 
U.S. Attorneys Goldstein and Feeley, with the help of U.S. District Judge Kathleen M. Williams, issued a temporary injunction followed by a permanent one against the Genesis 2 Church to which Jonathan and Jordan Grenon did not recognize or obey. 
Why?
If a code, statute, mandate, or even a law violates the Constitution, then it's not to be obeyed by "We The People."

Bishop Mark Grenon wrote the Judge and attorneys multiple times with evidence, facts, and even clinical studies about the efficacy of chlorine dioxide. He even sent information about chlorine dioxide FDA-approved products! He included clinical studies and patient testimonies, and all were ignored. 
Consequently, contempt charges were issued along with warrants for the arrests of Bishops Jonathan and Jordan. Then, on July 8, 2020, in a highly publicized raid at the main Church in Bradenton, Florida, FDA officials, DOJ officials, local police, deputy sheriffs, and Federal workers arrived. They collected (stole) computers, cellphones, church files, books, and supplies for making the G2 Sacraments (which were all 100 percent legal). They even confiscated the funds from a locked safe used to operate the Church and for the family to simply live on.

The news media was pre-alerted, flying a helicopter over the house during the raid! How's that for a coordinated plan?
The street was blocked off while the house was unjustly ransacked. The confidential Church information of Church members protected by law was also in the confiscated computers. You see, they regularly break Constitutional laws without any conscience whatsoever because they have the guns, the "color of law," and the keys to the jails!
Contempt charges that were issued against the Bishops of Genesis2Church were a violation of the 1st Amendment of the U.S. Constitution. So the Bishops of the G2Church were not in violation of "the law of the land," the Constitution, but a "code" of an agency that has no authority over a church belief and the practice of that belief! See 1st Amendment:
"Congress shall make no law respecting an establishment of religion or prohibiting the free exercise thereof."
So a Church's Sacraments are now a drug and subject to the FDA? 
There are FDA and/or EPA "approved" products sold at Walmart, Amazon, and stores that produce chlorine dioxide, but they paid for approval so that they can sell their products. The Genesis II Church provided their Sacramental products for a donation and didn't ask or pay for authorization, so there was no money collected and no permission given. The FDA corporation, of course, didn't like that! The G2Church provided free care for many people that couldn't afford the products on multiple occasions because health trumps profit. The FDA counter-attacked the G2Church and stopped them from exercising their God-given religious freedom rights upheld by the U.S. Constitution.
A free church does not operate under UCC and is not subject to tax according to IRS code 508. Also, a church and its beliefs and practices are not under the authority of the U.S. Government or any of its agencies. Period!
But the most important reason why they attacked them so viciously was that chlorine dioxide could have stopped the pandemic in its tracks and spoiled the plan of worldwide control by locking everyone down while depopulating the earth!
Do you want proof? Watch this!
Bolivia legalized chlorine dioxide for treatment of COVID-19, and they now have one of the smallest infection and death tolls of any nation on earth. That tells it all. The Bolivian Government passes it out freely to their people because they are a government that genuinely cares about the health of their people. Does the American Government even care that this was all planned by Dr. Mengeñe Fauci, the FDA, and Big Pharma to make billions? Isn't it clear that to the American Government, it's all about money? 
Not to mention there are now over 7,000 doctors, over 27 countries (see COMUSAV) using chlorine dioxide for COVID-19 infections.
The facts are that Dr. Fauci and his cohorts paid for the gain of function research to be developed and then sent it to the Wuhan lab to develop the agent that caused this pandemic.

The FDA is a for-profit corporation complete with a DUNN & BRADSTREET NUMBER, as is the Department of Justice!
Do you see what's going on here? 
The FDA is a lapdog of Big Pharma and is not looking out for the American people. Instead, they're approving drugs that harm people for the benefit of the pharmaceutical industry. They're profiting from it! Just read the package inserts from the companies that produce these drugs that the FDA approves. From a glance at any package, you will see firsthand the dangers of these approved toxic drugs that kill millions worldwide every single year. 
To add to the insanity, the Department of Justice protects the FDA by persecuting any person or group with treatments, remedies, or cures that we need to be healthy! The DOJ is the strong arm of the FDA and CDC as well. They are conspiring together behind the scenes to fulfill their plan to control the health of the American people and the world! Did you know that all judges, attorneys, and defense attorneys that people hire to defend them all share monies brought in by these charges?
At the raid, there were two deputy sheriffs. The week before the raid on July 8, 2020, Bishop Jonathan wrote to Sheriff Charles R. Wells that the DOJ violated the G2Church's Constitutional Rights. He did not respond. Are they part of the plan to silence the G2Church? Two deputies were sent the day of the raid. Who sent them? Why were they there?

Sheriff Charles R. Wells took an oath to defend those in his jurisdiction with the rights of the U.S. Constitution from threats both foreign and domestic! He deprived Bishops Jonathan and Jordan of their rights by not defending them and arresting all those who were violating their rights at the raid. He has that authority, and he didn't use it. Wells and his deputies will be held accountable under Article 18, Section 241 & 242. Even corrections officers are mentioned under these laws. Please read them!
Bishops Jonathan and Jordan were brought to Pinellas County in Tampa. They were arraigned, and the Judge denied bail based on the U.S. Attorneys' accusations saying that they were a danger to society without any evidence that the Grenons had hurt anyone. The U.S. Attorneys also said that Jonathan and Jordan were a flight risk. How can that be when every time a Sheriff or government official brought a legal document to the House Church in Bradenton, Florida, they were there? They didn't take them, but they did listen to the person and rejected every document! They weren't running, and they weren't scared because they knew the U.S. Government has no authority over a Church or its Bishops when it has to do with its beliefs and practices!
These are good men who have never been arrested in their lives. Instead, they've been missionaries serving the Lord since they were small children. What about bail based on no previous record?
Is there a conspiracy to silence them and all of the G2Church? Were the attorneys and the judges picked because they would follow the plan? But, first, let's see what else happened.

Innocence
Bishops Jonathan and Jordan proclaimed their innocence, stating they were not guilty. They denied a lawyer and said they would stand alone, defending themselves. So what's in the court record? An attorney was appointed to the Grenons as they requested.
You will see more from this criminal syndicate trying to silence the G2Church and its Bishops.  
Note: The Bishops were put in isolation during the Coronavirus Pandemic and forced to be tested by the PCR test. Jordan tested positive, but he was asymptomatic, so they separated him from his brother and put him in the infirmary for two weeks. They were also forced to eat processed food and drink contaminated public water. Their bodies were used to eating clean organic foods that are nutritious but were denied this healthy option. As a result, Johnathan, a former professional athlete, quickly developed high blood pressure. Was the Justice department trying to kill them? Why no bail, and why were they thrown into a group of people during a pandemic when they could have had ankle bracelets on and quickly stayed at home?
Both Jonathan and Jordan were transferred to Miami FDC and remained separated when they entered. They were locked up for 20-22 hours per day because of the pandemic and were only allowed two to seven minutes on the phone per day. Also, yes, the food and water were still horrendous. 
These men have not felt the sun for over one year. The sun is essential to vitamin D-3 and vitamin A production; both are vital to your immune system. In both jails, Jonathan and Jordan have been faithful to preach the Word of God to their fellow prisoners, who have been a blessing to many during the blatant gross violation of the U.S. Constitution!
No speedy trial and no due process, their rights were violated; experiencing unlawful imprisonment with no bail, no victims, with no intent to hurt anyone or commit a crime.  They consistently proclaimed their innocence, denied attorneys, and repeatedly told the judges they were defending themselves as "sui juris" (defending one's rights). 
The judges and lawyers will find out soon how lawful it is to represent one's self in that manner with case precedents! The judges in Miami appointed attorneys for them to which they denied and never talked to. The Judge wrote that they pleaded "not guilty," and they corrected the Judge, saying they were declaring their innocence.

Trial Delayed
A trial was set for September 2021, and in July 2021 was rescheduled until March 2022. Why?  
They said all the defendants needed to be there. Well, the father, Bishop Mark Grenon, and brother Bishop Joseph are in Colombia, South America, in a maximum-security prison awaiting extradition. I will get into that story next. 
Bishops Jonathan and Jordan have declared they are defending themselves. They have not been allowed to write on any computer, file a written document, or do any research whatsoever.
They have been assigned lawyers to represent them, which they have denied many times over, and their desires fall on deaf ears! Here are the public defenders assigned to Bishops Jonathan and Jordan, which they have not and will not recognize. They are defending themselves, which is their Constitutional right to which the judges seem to know nothing about or just don't care whatsoever about.
Public Defenders for Jonathan:
Ashley Devon Kay – Lead Attorney                  
Public Defender for Jordan:
Richard Francis Della Ferra – Lead Attorney
More Puppets:

Joaquin  E. Padilla –  Lead Attorney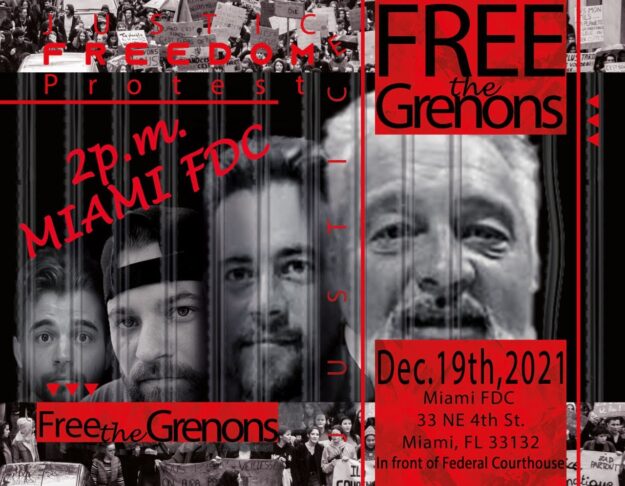 Remember, Jonathan and Jordan rejected Public defenders three, and they still appointed them. The Judge, persecutors, and defense attorneys are all needed to sign a person into prison. It is a criminal corporation against the Bishops of the Genesis II Church.
The Grenons will never enter this unlawful and unconstitutional corporate entity. They are free men with inalienable rights from their Creator. They are not a corporate entity created by defraud when their mother signed their "birth certificate" as "an informant" but have declared their sovereignty as "men." A baby can't agree to anything or sign anything to consent to this fraudulent contract.

Bishop Jonathan Grenon has written Warden E.K. Carlton numerous times asking for a journalist to interview him about his case so he can notify the American people about how his and his brother Bishop Jordan's Constitutional Rights have been denied, grossly trampled on, and violated. He has gotten NO response from Warden Carlton or his office. Isn't Freedom of the press also in the 1st Amendment? Another Right violated! These offenders of the Constitutional need to be held legally accountable.

The Rest Of The Conspiracy Against The G2Church
On August 10, 2020, at 6:00 AM, Bishop Mark heard a smash downstairs while reading his Bible. A second smash happened, followed by yelling. He went downstairs from the third-floor bedroom to be met by three heavily armed soldiers who quickly put a rifle on the forehead of Mark. One soldier yelled in Spanish, "Lift your hands." Mark complied and replied in Spanish, "Why are you here?" and "I am not afraid of you." He was brought down to the first floor to see more soldiers inside and outside, as well as three CTI officers that would arrest him. 
They asked where his son Joseph was, and he told them where he lived but asked that they don't smash down the door as he has two small children there and his wife was seven months pregnant. The good thing was they did not smash his front door but only knocked on the door and asked him to come out. So we thank God for that.
Prior To August 10
When Bishop Jonathan and Jordan were arrested (kidnapped) on July 8, 2020, Bishop Mark Grenon called the Manatee County Sheriff's department. He identified himself as the father of the two men arrested that day. They knew exactly who he was and immediately handed him over to a person that could talk to him. He asked for the sheriff and was told he wasn't available. He gave them his number, and a U.S. Marshal from the U.S. Embassy in Bogota, Colombia, called his phone. Mark gave U.S. Marshall Barbosa his address if they had to talk to him. They used that information to raid his house and take Mark and Joseph to Bogota for extradition.
The iconic thing is that the military team that conducted the raid was called "Gaula." They were a special unit trained to rescue kidnapped victims! However, they were sent to kidnap Mark and Joseph Grenon. They were taken the next day to a maximum-security prison in Bogota called "Palo Quemao," where they stayed for three and a half months. Then they were transferred to another maximum-security prison called "La Picota," where they've been for 12 months. They are being held in an extradition area with other prisoners waiting to be extradited to the U.S. and other countries. The news coverage the day they were kidnapped and the next few days was very telling about the lie that Big Pharma needed to publicize about Genesis2Church. 
The news station Caracol reported that the founders of a "so-called church," called the Genesis2Church of Health and Healing, were defrauding the American people and others around the world, proclaiming they were curing people of COVID-19 with chlorine dioxide, which was just an industrial bleach. They went on to say that the U.S. had informed them that seven people had died from ingesting this bleach which was a complete and heinous lie!
This is not true whatsoever, and even the clinical tests done about chlorine dioxide say that the amounts of chlorine dioxide that the G2Church Sacraments contained couldn't even harm a rodent. So the reporters were lying through their teeth as they read the teleprompter that Big Pharma thoughtfully wrote. It was reported in Colombia as truth and in many other parts of the world. 
Welcome to mainstream media.
We have all the newspaper and MSM reports that can prove it. From the Washington Post, ABC, internet news, The Guardian, and Business Insider. It was even talked about on Good Morning America and many others. ABC, CNN, Caracol, Univision, Brian Ross reports, and many others covered the same lies, defamed the Genesis II Church, and committed liable and slander!
What Did The Colombian So-Called "Justice" System Do?
During Mark and Joseph's unlawful imprisonment, they were harassed to sign documents and accept court-appointed lawyers they denied. They have not signed any of the documents or accepted or talked to any lawyers. 
What happened?  
The Colombia "Justice Department" assigned them lawyers, just like the DOJ did to Bishops Jonathan and Jordan in the U.S.! 
Sound like a familiar plan?  
They also said Bishop Mark and Joseph were fighting extradition, another lie. All they did was tell the Colombian Government they were unlawfully imprisoned by the U.S. Government without any evidence. The Colombian Government makes $250,000 per extradition. So it's big business for Colombia. They also get paid each month they hold prisoners for extradition, and the U.S. knows this, so Bishops Mark and Joseph are held as long as the Colombian can keep making money until the process is done in Colombia, which can take at least one year! It sounds like they are trying to help the DOJ hinder the right to a speedy trial.
Will you come and support the protest on December 19 in front of the Wilke D. Ferguson, U.S. Courthouse 400 N Main Ave, Miami, Florida, across the street from where Bishops Jonathan and Jordan Grenon are being held?
Will you protest this abuse and gross negligence of the U.S. Constitution?  
Will you be next?  
Look what has happened regarding chlorine dioxide since the Grenons were kidnapped and the pandemic started:
NOTE: The producer created this documentary after watching the G2Church documentary "Quantum Leap" done in 2016:
Other statistics about chlorine dioxide:
Sir Humphrey Davis discovered chlorine dioxide in 1814.

There are over 3,000 patents for uses of chlorine dioxide, including Malaria, aids, and cancer. It's also used to kill Anthrax by Government, kill black mold after Hurricane Katrina, and kill 98 percent of pathogens. The G2Church performed before and after blood tests confirming a 100 percent cure rate of Malaria by chlorine dioxide (see: Quantum leap documentary).
Will You Support The Peaceful Protest To Free The Grenons?
Bishop Mark has done three interviews from the prison phone in Bogota, Columbia.
With Ann Vandersteel and With Ann Vandersteel Again
And With David Oates
Bishop Mark Grenon has written three books with much information about the Genesis II Church, chlorine dioxide, the history of Western Medicine, how to rid the world of DIS-EASE, and much more with evidence of the efficacy of chlorine dioxide; with pictures and testimonies!
Other Attacks And Abuses That Happened To The G2Church And Its Bishops:
Over 3 million views were wiped out from YouTube!

Facebook canceled five channels with over 10,000 followers!

The DOJ demanded the G2Voice Podcast be shut down!

The Church's main website shut down!

The G2Church sacred product site shut down!

The G2Church weekly newsletter stopped!

G2Voice website closed with 200+ videos!

Bishop Mark Grenons' books confiscated!

Wells Fargo shut down G2Church bank accounts!

Chase Bank canceled personal accounts!

Only accusations – no evidence, no facts!

Five hundred days, the Bishops have been kidnapped!

Two babies were born since unlawful imprisonment that the Bishops haven't met yet.

Defamation of character, slander, liable by attorneys, MSM, newspapers!
If you cannot make it to the December 19th peaceful protest in front of the Federal Detention Center at Miami, Florida, please pray about helping the Grenons by donating: https://givesendgo.com/G26YV
If it's not a worldwide conspiracy to suppress information that could have stopped the "pandemic" before it killed and maimed so many, then what is it?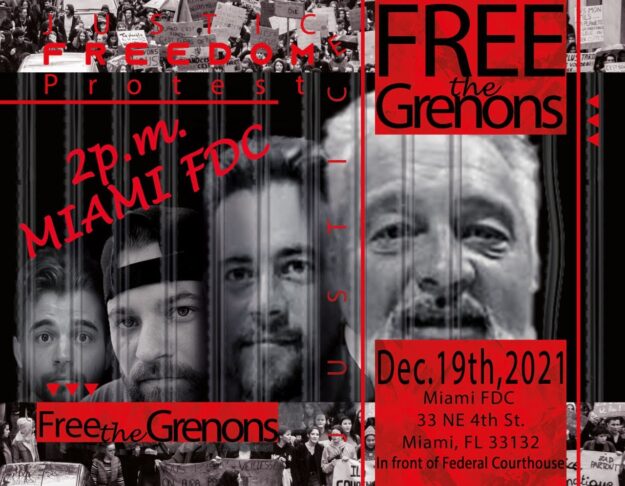 For more information on the Grenon
The G2Church produced a documentary called "Quantumleap" that quickly spread worldwide in 10 languages.
Mark has written three books documenting their journey along with an eBook.
N.Y. Times bestseller and scientist Dr.Judy Mikovits mentions chlorine dioxide.