Being your own health advocate means making choices that promote healthy living no matter where you are. But, unfortunately, stress, body aches and pain, and fatigue are on the rise. In 2020 alone, 67 percent of adults have reported increased stress. Society is overworked and overstimulated, and the human body is overrun by toxins and stressors that come from the environment, the water we drink, and the foods we eat. But in as little as 20 minutes a day, the BioMat® provides three key components in infrared therapy rays, negative ion technology, and amethyst.
Pain Relief At Home
From the comfort of you're home, all three offer increased blood circulation where applied and physical relief that will naturally promote better sleep, more calm, and increased focus on what's important in life. With your BioMat® always conveniently on hand, you'll be able to take more control in honoring a steady and inexpensive regular treatment regimen. In addition, BioMats® are safe for almost everyone (see the safety precautions page for details).
Additionally, you'll enjoy temporary relief of:
Minor muscle pain
Minor joint pain and stiffness
Muscle spasms
Minor sprains
Joint pain associated with arthritis
Minor strains
Minor muscular back pain
The BioMat® also:
Reduces stress and fatigue
Soothes and relaxes muscles
Supports the immune system
Improves sleep that's been disturbed from pain relief
Reduces inflammation (where applied)
Three Complementary Technologies Deliver Powerful Results
The BioMat® products are made possible by three complementary technologies that work synergistically to deliver powerful healing treatments. The first of these technologies first came to light when scientists Dr. Erwin Neher and Dr. Bert Sakmann discovered that ion channels exist in our body cells. This discovery also led to the realization that these channels can stimulate the cells and alter their membranes to allow cells to communicate with one another. These ion channels essentially act like "pores" in the cells, letting external stimuli deep into the center of the cell. These "pores" are even capable of stimulating new memory traces in the brain! Neher and Sakmann revolutionized the field of cell biology and received the Nobel Prize in Physiology or Medicine in 1991 for their discovery.
Infrared Therapy Rays
Far infrared rays are part of the electromagnetic light spectrum and are close to the light frequency of natural sunlight. However, far infrared doesn't contain any of sunlight's harmful UV/UVB radiation. The first research on infrared light came from NASA decades ago. Today, research shows that far infrared technology can promote advanced recovery from strength and endurance training sessions.
Negative Ion tehcnology
Negative ions are ions with a negative electrical charge. Research suggests that negative ions can support healthy performance and mood.
Amythest: Natural Superconducting Properties For Deep treatment
The third technology incorporated into the BioMat® is the oldest and most valued throughout the centuries.
Amethyst's healing powers have been celebrated for thousands of years. Leonardo da Vinci believed that amethyst had the power to protect against evil and to increase intelligence. And Buddhists use the stone to enhance peace and tranquility during meditation.
Today, modern science shows us that centuries of lore surrounding the stone's healing powers are supported by its unique physical characteristics, including its piezoelectric properties, which allow it to carry a negative and a positive charge simultaneously. The outermost layer of every BioMat® product is covered with channels of pure amethyst, which the far infrared rays must pass through. The superconducting properties of the amethyst layer turn these rays into long wavelengths capable of safely and deeply penetrating the body.
How does the BioMat® deliver far-infrared therapy rays and negative ions to the human body?
The BioMat® stimulates ion channels by producing negative ions that deliver energy to your cells. The topmost layer of the BioMat® is made of superconducting channels of pure amethyst. This layer allows the far-infrared rays and negative ions to penetrate the body deeply.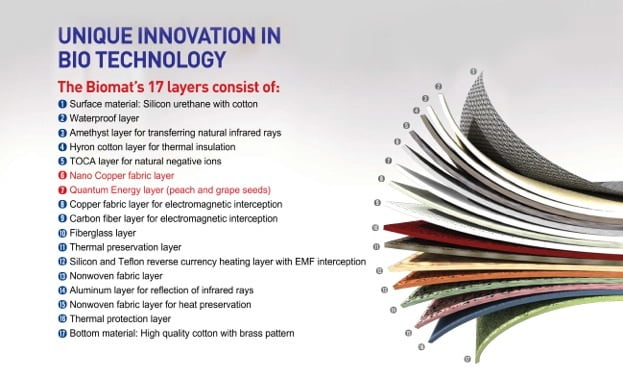 How the BioMat® Works
The technologies that BioMat® uses aren't new. In fact, some of the underlying concepts have existed for more than a thousand years. But the BioMat® combines far infrared and negative ion technologies to provide an affordable solution for everyday home users and independent health professionals.
The Best of Science and Holism
The BioMats® uses verified scientific principles to deliver holistic treatment that reaches the whole body. It provides a non-invasive and soothing experience to offer relief and relaxation wherever applied.
Why BioMat®?
FAQ (More in our FAQ Tab)
Is the BioMats® easy to use?
Although the BioMat® is a certified medical device, it is very easy to self-administer calibrated treatment. The computerized control panel is intuitive to use and comes with a simple set of instructions.
Which BioMat® product is right for me?
There are a range of BioMats® products designed to be effective when used individually or together:
BioMat® Professional: Ideal for health care professionals looking for a way to extend and enhance their treatment options or for home users who want comfortable, full-body treatment. The BioMat® Professional measures a full 6'5 in length, allowing for full-length body contact and optimal results.
BioMat® Mini: At just 17" x 33" inches and 8.2 pounds, the BioMat® Mini is ideal for people who want to enjoy treatments at the office or on their travels. It works perfectly for localized problem areas. It's also the perfect size to be used in a medical spa or dental office chair, making it a perfect choice for health providers.
BioMat® Pillow: The right choice for people who want targeted treatment of minor muscle pain or targeted muscle relaxation in the area where they would lay on a pillow. The BioMat® Pillow is also an excellent complement to the Professional or BioMat® Mini, stabilizing the vulnerable head and neck area. In addition, the Pillow keeps the head cool during treatment while delivering the benefits of negative ion therapy to this area.
How often should I use my BioMat®?
Your BioMat® can be used every day.
When will I start to see results from my BioMats®?
Every person's experience with BioMats® is different. Many people achieve immediate relief from certain pain and discomfort right away. For others, it will take a few weeks before the deep-penetrating treatment begins to bring relief.
Does the BioMat® come with a warranty?
Yes. All BioMat® medical devices are constructed to the highest standards and protected by a 3 Year Limited Warranty / Lifetime Trade-In Option. In addition, the product has been subjected to rigorous quality testing and is both FDA Approved Class II Medical Device and ISO certified.
Why We Love It:
0% Financing available
Great for muscle pain, discomfort, spasms, and strains
Reduces inflammation
Improves sleep if the pain is an underlying issue
Save money and time
Soothes muscles
Disclaimer
*These statements have not been evaluated by the Food and Drug Administration. Specific medical advice should be obtained from a licensed health care practitioner