DUTCH Plus offers the most advanced hormonal imbalance test with an extensive profile of melatonin, sex, and adrenal hormones, along with their metabolites to identify symptoms of hormonal imbalances.
Easily collected in the comfort of your own home, samples are then sent to our lab to be processed. The DUTCH (Dried Urine Test for Comprehensive Hormones) Complete hormone test is the most accurate test that provides a complete assessment of hormonal health. DUTCH Plus adds an extra component to testing with salivary measurements of the Cortisol Awakening Response (CAR).
Understanding Hormones
Hormones are regulated by the endocrine system, a collection of glands (pituitary, thyroid, parathyroid, adrenal glands, pancreas, ovaries (in females) and testicles (in males)) that produce the hormones that regulate metabolism, growth and development, tissue function, sexual function, reproduction, sleep, and mood.
Each gland works to select and remove materials from the blood, processes them, and the final chemical product that is secreted travels to where it is needed in the body (each hormone is targeted toward certain organs and tissues) to promote optimal health and function.
Each gland and hormone produced is essential to bodily function, therefore, if there is a problem with one or more glands, hormonal imbalance can occur, causing a range of health issues. Endocrine disorders include:
Diabetes

Adrenal insufficiency

Hypothyroidism

Hyperthyroidism

Cushing's Disease

Gigantism and growth issues

Hypopituitarism

Multiple endocrine neoplasias I and II

Precocious puberty

Polycystic ovary syndrome
Hormonal imbalances can be caused by a range of things, some natural, some out of your control, and others based on lifestyle choices. Some common causes of hormone imbalances are:
Thyroid nodules

Medications (e.g. birth control)

Age-related changes such as menopause and andropause

Genetic disorders

Stress

Nutritional issues

Excessive stress

Poor diet
The changes that are occurring can be detected by a hormone imbalance test, opening the door to treatment that can ease or eliminate hormonal imbalance symptoms before they completely manifest and cause life changing damage; and DUTCH is the essential hormone testing method on the market.
Why You Should Use DUTCH Plus™ Hormonal Imbalance Testing
A wide range of hormone tests are flooding the market and are even available from your physician, but DUTCH Plus is unlike any other. Here's what sets DUTCH Plus apart from the rest:
Analytical and Clinical Validation
Precision Analytical's testing methods go through a rigorous validation process to verify accuracy, recovery, and linearity. DUTCH testing pride's themselves in relentlessly pursuing the most accurate and precise techniques available for testing.
The Easiest Patient Collection
Patients collect just four or five dried urine samples over a 24-hour period. Dried samples are stable for several weeks making them convenient to ship worldwide.
Effective HRT Monitoring
DUTCH testing was designed to be optimally effective for most forms of hormone replacement therapy (HRT). Unique methods are used for improved monitoring of oral progesterone and vaginal hormones.
DUTCH Plus test results include:
Analysis of 35 different hormones: estrogen, progesterone, testosterone, DHEA-S, and cortisol along with their metabolites

Daily free cortisol patterns to provide insight into adrenal insufficiency or symptoms of chronic stress

Graphical representation of results and embedded video tutorials to assist in the hormone assessment to share with your medical provider

DUTCH OATs: Oxidative stress marker – 8-Hydroxy-2-deoxyguanosine (8-OHdG), melatonin (6-OHMS), and six organic acid tests (OATs) including markers for vitamin B12 (methylmalonate), vitamin B6 (xanthurenate), kynurenate, glutathione (pyroglutamate), dopamine (homovanillate), norepinephrine/epinephrine (vanilmandelate).
What is the Cortisol Awakening Response and how do we test for it?
When we open our eyes upon waking, cortisol levels naturally begin to rise by an average of 50 percent. Thirty minutes after waking, cortisol levels will still show this sharp increase. Sixty minutes after waking, cortisol levels peak and begin to decline. Measuring this rise and fall of cortisol levels at waking can be used as a "mini stress test." Research shows that the size of this increase correlates with HPA-axis function, even if the sample measurements are all within range. A quick saturation of saliva swabs upon waking followed by additional swabs at 30 and 60 minutes after waking, provides what is required to assess a patient's CAR.
A low or blunted Cortisol Awakening Response
A low or blunted CAR can be a result of an underactive HPA axis, excessive psychological burnout, seasonal affective disorder (SAD), sleep apnea, poor sleep, PTSD, chronic fatigue and/or chronic pain. A decreased CAR has also been associated with systemic hypertension, functional GI diseases, postpartum depression, and autoimmune diseases.
An elevated Cortisol Awakening Response
An elevated CAR can be a result of an over-reactive HPA axis, ongoing job-related stress (anticipatory stress for the day), blood sugar dysregulation, pain (i.e. waking with painful joints or a migraine), and general depression (not SAD). A recent study showed that neither the waking nor post-waking cortisol results correlated to Major Depressive Disorder, but the CAR calculation (the change between the first two samples) did. This measurement of the response to waking has independent clinical value showing dysfunction that may be hidden by current testing options.
How Does DUTCH Complete Compare To Other Hormonal Imbalance Testing Kits?
DUTCH vs. Saliva Testing
While the free cortisol pattern in saliva has clinical value, there is a significant missing piece to surveying a patient's HPA axis (hypothalamic-pituitary-adrenal axis) function with saliva testing – measuring cortisol metabolites. To properly characterize a patient's cortisol status, free and metabolized cortisol should be measured to avoid misleading results when cortisol clearance is abnormally high or low. Likewise with sex hormones, measuring estrogen and androgen metabolites gives a fuller picture for more precise clinical diagnosis of hormonal imbalances and HRT monitoring.
DUTCH vs. Serum Testing
While the most universally accepted testing method (due to the availability of FDA-cleared analyzers that are reliable and inexpensive), serum testing is lacking in some areas. Adrenal hormones cannot be effectively tested in serum because free cortisol cannot be tested throughout the day. There is also a lack of extensive metabolite testing (especially for cortisol and estrogens).
DUTCH vs. 24-Hour Urine Testing
There are two primary drawbacks to 24-hour urine testing of hormones. First, the collection is cumbersome, and as many as 40 percent of those who collect, do so in error. Secondly, dysfunction in the diurnal pattern of cortisol cannot be ascertained from a 24-hour collection. Some providers add saliva for daily free cortisol. DUTCH eliminates the need for two tests.
Which DUTCH Hormonal Imbalance Testing Kit Is Right For You?
DUTCH hormone testing comes in two variations: DUTCH Complete and DUTCH Plus.  is the baseline for hormone testing while DUTCH Plus™ adds salivary measurements of the CAR to the DUTCH Complete to bring another important piece of the HPA axis (hypothalamic-pituitary-adrenal axis) into focus.
Even though a patient may have "normal" free cortisol levels throughout the day, that doesn't always mean everything is functioning properly. The graph below shows two good examples. A blunted or exaggerated CAR can appear, even when single samples return "normal" results. The HPA axis might not be appropriately responding when faced with a stressor, even when cortisol levels are fluctuating nicely throughout the day. The "stress" of waking allows us to test the HPA axis in a way that has been independently correlated to clinical outcomes and cannot be assessed by other cortisol tests on the market.
Because of the additional look at the CAR, DUTCH Plus is perfect for those who believe their symptoms are due at least in part to HPA axis dysfunction. Those who do not need to delve as deep into their cortisol response can still find answers to their hormonal imbalances with the DUTCH Complete.
The DUTCH Plus™ uses four dried urine samples and five saliva samples. These samples are collected over the course of one day, from waking to bedtime. The DUTCH Plus™ report includes: Metabolites of Estrogens (10, including E1, E2, E3, 2-OHE1, 4-OH-E1, 2-OH-E2, 4-OH-E2, 16-OH-E1, 2-methoxy-E1, 2-methoxy-E2) , Androgens (8, including Testosterone, DHT and DHEA-S), Progesterone (2), Cortisol (3), Melatonin (6OHMS), 8-OHdG, and OATs (6). The diurnal pattern of Free Cortisol and Cortisone are also provided, including the Cortisol Awakening Response.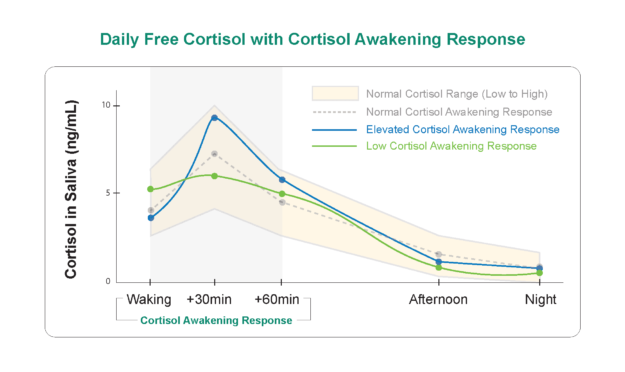 DUTCH Plus with Cortisol Awakening Response hormone testing kit includes:
Easy directions and filter paper collection strips

Requisition form for patient information, pertinent supplements, medications, hormone replacement, and a health questionnaire

5 Salivette™ saliva collection tubes

Resealable plastic bag

Return envelope with paid return label (Domestic Only)
The results include:
Analysis of CAR from cortisone (5) and cortisol (5)

Graphical representation of results

Provider notes with specific additional information created specifically for the patient
Instructions
DUTCH Plus Female Sample Report
DUTCH Plus Male Sample Report
What Do I Do After I Send My Results In?
As your DUTCH Plus provider, we'll have access to your results once they become available and can discuss them in detail with you. Please book a consultationwith HoneyColony co-founder and Functional Medicine Coach, Maryam Henein to set up an appointment and discuss your results and what they mean for your health.
Why We Love It:
Easy to use in the comfort of your own home

Rigorous validation process to verify accuracy, recovery, and linearity through pursuing the most accurate and precise techniques available for testing

Dried samples are stable for several weeks for convenient worldwide shipping

Offers an analysis of 35 different hormones

Graph results provided to share with your medical provider

Free and metabolized cortisol are measured to avoid misleading cortisol status results

Measures estrogen and androgen metabolites to give a fuller picture of hormonal imbalances and HRT monitoring

CAR testing to for HPA axis is independently correlated to clinical outcomes and cannot be assessed by other cortisol tests on the market
Please Note: Restrictions apply for ordering lab tests in the states of  NEW YORK OR RHODE ISLAND. If you live in either of these states, please contact us before purchasing.
Additionally, DUTCH hormonal imbalance testing kits are dropshipped from the vendor, since they cannot be sold directly to patients. In order to process and ship your order the vendor notes: We will just need the patient's first and last name, shipping address, phone number, and e-mail address (the last two are for the courier in case there is an issue and they need to contact the patient about their address).
Return Policies
Return policy for a refund is 90 days from the date of purchase.

The kit must be returned to Precision Analytical Inc. before any refunds can be issued.

Shipping fees are non-refundable.

There is a $25 re-stocking fee.

Credit card refunds can take up to 30 days to be processed.