Viruses, infectious bacteria, and environmental toxins are constantly invading your body and putting your natural immune system to the test. Your body responds to these antigens/invaders by sending out antibodies known as immunoglobulins G (IgG). The Immune Support Bundle features Just Thrive® Ultimate IgG Complete Immune Support and Just Thrive Probiotic, the only probiotic with 100 percent survivability, to make a super powerful 1-2 punch that supports optimal gut health and intestinal barrier function.
When your body is in homeostasis (perfectly balanced), you're able to produce adequate amounts of IgG. But if you're under constant stress, have a weakened immune system, or are dealing with new antigens,  your IgG production can be limited and inadequate.
Ultimate IgG and Probiotics: Working Together
Just Thrive Probiotic has created the first all-spore probiotic that features proprietary strains for optimal health. Where most probiotics barely make it to the intestines alive, Just Thrive Probiotic survives in stomach acid for transport into the intestines.
Just Thrive IgG works together with probiotics to nurture the number of beneficial gut bacteria while encouraging the health and protection of your gut barrier. By eliminating harmful antigens, IgG makes it easier for probiotics to survive and thrive in the gut.
Just Thrive Probiotic
Just Thrive is superior on so many levels. Essentially, Just Thrive is creating a paradigm shift in probiotics because it is an entirely different approach to probiotic therapy. First, the strains in Just Thrive survive 100 percent through the gastric system and they do this naturally, not by enteric coating.  The most common lactobacillus and bifidobacterium organisms are very sensitive organisms and have tremendous difficulty surviving the harsh gastric system and therefore are dead upon arrival into the intestines.
Not only is Just Thrive a potent probiotic one of the strains in Just Thrive (Bacillus indicus) creates a full array of antioxidants right inside the intestines–right where they need to be absorbed!  So, we have a probiotic and antioxidant in one.
Probiotics are a necessary microorganism supplement that introduces friendly bacteria in the digestive tract to promote healthy gut function. In today's world where processed foods and toxins such as glysophate (Roundup), antibiotics, and vaccines compromise the intestines, it's vital to feed your system good bacteria that bolster your immune system.
Most probiotics fail for a simple reason — stomach acid breaks them down before they start working. Just Thrive Probiotic has 100 percent Survivability, allowing it to live through stomach acid and make it inside the intestines intact. In addition to adding healthy bacteria, Just Thrive produces high levels of potent carotenoids (antioxidants) at the absorption site (most antioxidant supplements do not survive the stomach, either).
Suggested Dosage: Take either ½ or 1 full capsule every other day for the first week. After that, increase to the full dose.
Just Thrive® Ultimate IgG Complete Immune Support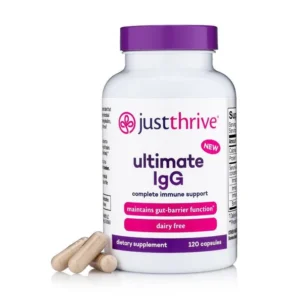 IgG, is an antibody–a protective protein that your immune system produces when it senses an invader. IgG antibodies patrol your body for antigens and spring into action when they run into anything that's not supposed to be there. Common invaders include:
Viruses
Pathogenic bacteria
Fungi
Environmental toxins
When IgG antibodies catch an invader, they bind to it so they can't escape. Then, they neutralize the germ or toxin, to keep it from causing any more damage. Lastly, IgG safely removes the antigen from your body.
How Ultimate IgG Helps
Immune Support
Just Thrive® Ultimate IgG Complete Immune Support offers powerful immune support and aids your body in two equally important ways:
It sends in immunoglobulin "troops" to keep your immune system from getting overwhelmed
It helps keep your immune system in check
Keeping your immune system in check is important in fighting invaders and promoting homeostasis. An unbalanced immune system can cause your IgG to overreact and start attacking your healthy body cells and tissue. It can also cause it to underreact and not respond to invaders with enough force to destroy them. Ultimate IgG gives your immune system the tools it needs to swiftly respond.
Gut Health
Your gut lining offers a protective barrier with two crucial jobs. First, your gut selectively sends nutrients and healing compounds into your bloodstream to nourish your cells, organs, and your entire body. Second, your gut keeps toxins locked safely inside the gut, preventing them from escaping into your bloodstream.
Unfortunately, bad bacteria and other toxic substances can quickly compromise your gut barrier and weaken it. Pesticides, for example, are common on crops, and even pesticide-water runoff can reach organic crops. Toxins can sneak into your bloodstream and travel anywhere in your body. And the more toxins make it into your bloodstream, the more they can build up and cause havoc on your organs.
Ultimate IgG provides an extra level of support in your gut by seeking out and neutralizing harmful bacteria before their impact can be felt. By taking down antigens, Ultimate IgG:
Supports healthy intestinal function
Encourages optimal health and strength of your gut barrier
Increases nutrient absorption to support healthy digestion
Boosts the effectiveness of probiotics
Suggested Dosage: Take 4 capsules daily with or without a meal.
Please Note: Do not consume if you have a beef allergy.
Why We Love This Immune Support Bundle:
Supports intestinal health
Survives harsh stomach acid conditions
Aids in antioxidant production
Aids in digestion
Supports healthy bowels
Supports healthy immune function
Boosts immune system response against invaders
Supports healthy digestion and helps your body absorb more nutrients
Boosts probiotic effects
Supports nutrient absorption
Free of wheat, gluten, dairy, lactose, casein, nuts, soy, salt, sugar, artificial colors or flavors, binders, fillers, and GMOs.