Onnit MCT Oil is a 100 percent pure and premium MCT Oil or medium-chain fatty acid triglycerides, designed to keep you energized throughout the day while boosting health in various ways.
Coconut oil works wonders for our entire body. As an all-natural replacement for the adulterated butters, oils, and margarines that line grocery store shelves, Onnit MCT Oil offers healthy fats with low carbs for an optimal fuel source. This makes Onnit MCT Oil perfect for athletes who are looking for quick energy sources without loading up on carbs.
Onnit MCT Oil comes from coconut oil. All medium-chain fatty acids in coconut oil are quickly transported and absorbed into mitochondria, and provide immediate energy to our entire body.
Many MCT oils have palm oil added to them. Palm oil is high in unsaturated fats, is typically highly refined—making it difficult to digest, and can cause toxicity. Not to mention that it's grown in a monoculture that is clear-cutting forests and that they often use rodenticides. In addition to adding palm oil, many MCT oils lack lauric acid, the longest carbon chain fatty acid. It has a major effect on energy intake and allows the body to feel fuller by increasing the concentrations of the hormones Glucagon-like peptide-1 (GLP-1) and cholecystokinin (CCK).
Both hormones increase satiety and reduce eating desire by slowing gastric emptying. Capric or caprylic acids, two common acids in coconut oil, which show up in many other MCT oils, do not offer these additional health benefits.
Onnit MCT Oil can easily be added to your cup of coffee, a smoothie, juice, and even to salads as a dressing. Enjoy all-natural energy, manage your weight, and never crash with this premium 100-percent coconut-sourced oil.
Suggested Use: As a dietary supplement, take 1 tablespoon (15 mL) 1 to 4 times daily. Onnit Pure Premium MCT Oil can be mixed into smoothies. Can also be used as a substitute for conventional oils in salad dressings or unheated sauces. Not recommended for cooking due to its relatively low boiling point.
Not recommended for use with Styrofoam or any other foam-based material.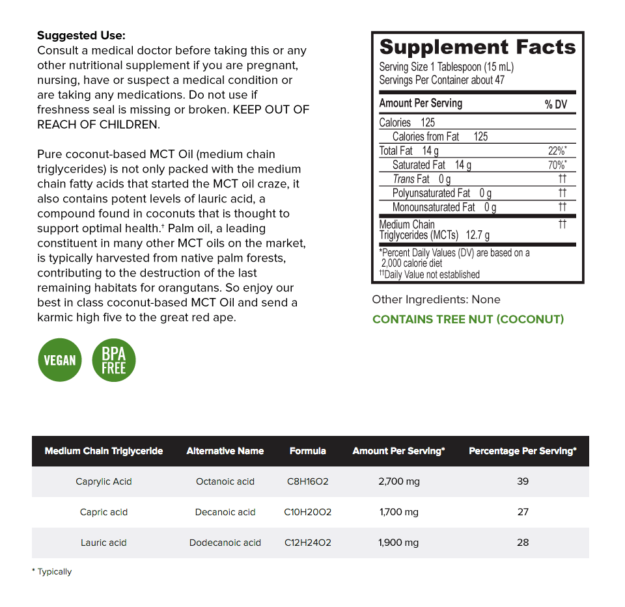 Why We Love It:
Provides quick and natural fuel
Laurics acid increases the feeling of fullness and decreases food intake
Curbs sugar and carb cravings
Can easily be added to coffee, shakes, and smoothies
Supports healthy brain function without crashing
No palm oil
100% coconut sourced
Supports healthy weight management
Vegan
Non-GMO
BPA free