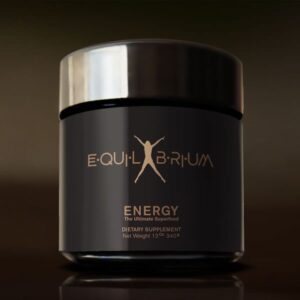 Equilibrium is the evolution peak of superfoods.
HoneyColony redefines nutritional energy with a new super superfood called Equilibrium Energy. Our specially formulated  raw honey-based blend consists of organic and wildcrafted ingredients—cultivated with the highest standards to bring you energy and superfood yumminess with every serving.
At the core of Equilibrium is raw honey. Eleven other potent superfoods are added—each one organic or wildcrafted, boasting numerous health benefits. The total 18 ingredients bring harmony to a life that faces any stress, toxins, and negative energy.
Equilibrium Superfood is made in small batches to ensure high quality, exact measurements, and consistency in every jar. To ensure our product never loses integrity, we use high-quality Biophotonic jars  that only let sunlight in to improve the substances in each formula.
Equilibrium comes in three different flavors and offers three different functions. The first one, Energy, was designed for athletes or anyone who lives an active lifestyle. By naturally stimulating the nervous system, enhancing brain function, supporting muscle relief, and providing anti-inflammation support, each jar will keep you in the active zone. For those of us who who seize life in its whirlwind of activity, Equilibrium Energy offers the support you need for a mental and physical edge.
Why We Love It:
Superfood formula comprised of 18 individual superfoods
Provides long-lasting, cellular energy
Increases stamina and endurance
Improves oxygen utilization for enhanced performance
Supports physical adaptability
Boosts electrolytes
Boosts anti­-oxidants
Supports DNA and cellular repair
Enhances brain function
Anti-inflammation, anti-bacterial, anti-viral support
All bee products come from family-owned California farms
High quality jar protects from negative influences of light
Each batch receives Certificate of Analysis to ensure highest quality
Non-GMO
All ingredients certified Organic or wild-crafted
Free of added sugar, gluten, soy, nuts, wheat, herbicides, and pesticides
Click here to the read reviews and see why people are raving about our Equilibrium Wholesale Energy Superfood.
Please fill out the form below for more details on ordering wholesale energy superfood, Equilibrium Energy, and we will get back to you within 1 business day.