I was thought to be slightly odd as a child. Other girls would cower and run from harmless bees in flowers. I, however, was attracted to their seeming solitude and focus; I wondered where they came from and where they were headed.
Fifteen years later not much has changed. I am still fascinated by bees, and now at age 25, I am a beekeeper in Boston.
Between August and November of 2013, I traveled alone with my camera to capture bees in the farms, mountains, valleys, and cities of Italy.
I slept in the Sicilian church my great grandparents got married in. I crashed on a beekeeper's couch in Torino. I spent four days at an Italian prison that teaches the skills of beekeeping to inmates, which helps rehabilitate them. At one point, I put down my camera for a pair of work boots and earned my stay at an organic farm by working long hours in the fields of Tuscany.
There were lavish times too: I was a guest at a national honey conference in Bologna. I stayed at a bed and breakfast in Rome that keeps bees and serves honey to guests. The best pasta I've ever tasted was made by a beekeeper in the Amalfi Coast.
All of this happened with the goal of documenting honeybee culture in Italy. My project Bees in Italy shows a golden age of beekeeping. Instead of focusing on the decline and death of bees, I want to capture life free from harmful pesticides, which is within our reach here in the United States.
While Italy does use pesticides, it was the first nation in the EU to ban the use of neonictinoid pesticides in corn. The keepers are equally as important as the bees, and portraiture plays an important role in my photography. There is much to learn from the farmers in Italy. Their approach and mindset have a quiet patience that commands respect and trust from the natural world. What fascinates me about the country is that despite longstanding economic struggles, Italians are paving the way for contemporary agriculture by not using neonicotinoids.
Bees in Italy is still unfinished at this point because I was only able to take images last fall. It is important that I go back this spring to make Bees in Italy a finished reality. Beekeepers are eager to host me in Sicily, Sardinia, Rome, and Calabria upon my return.
I hope to complete the story. This narrative is not specific to one country. It is about how humans on a grand scale connect and interact with nature as a whole. Photographing the relationship of beekeepers and bees is a platform for showing this symbiosis.
If funded I will be able to capture springtime swarming, the larvae emerging from their cells, bees pollinating—all the things I was unable to capture last fall. I plan to have these images in a traveling photography exhibition. With your help, I will be able to use art to educate the world about the importance of bees in our ecosystem. Those who back Bees in Italy will receive photographic prints, postcards, and other rewards for helping.
Check out her Kickstarter campaign: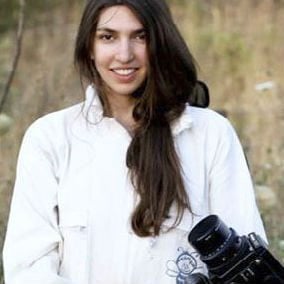 Renée Ricciardi is a Boston-based artist and photographer. Last summer she spent three months living on organic farms in Italy. Bees in Italy: is a half-completed photography project that shows the connection between man and nature by photographing apiaries, beekeepers, and organic life. She is interested in man-altered nature and it's effects on society.
Submit your story or essay to Buzzworthy Blogs.
Related Articles:
---