One day soon, genetically modified salmon will take over our oceans, rivers, and streams. The manufactured frankenfish, which is created to grow twice as fast and on less food as farm-raised conventional varieties, won't leave any room for competition and will eventually wipe-out our treasured native salmon. Salmon fishing communities will be devastated and our marine environment will be altered.
Kudos to the U.S. Food and Drug Administration for approving the first-ever GE animal for human consumption and helping make America a leader in animal biotechnology and transgenic animals.
There's a morsel of encouraging news in this environmental disaster. Costco, the second largest retailer in the world and one of the largest retailers of salmon and seafood in the U.S., has rejected GMO salmon, joining more than 60 other supermarket chains including Kroger, Safeway, Trader Joe's, and Whole Foods. More than 9,500 stores nationwide, thus far have made a commitment to not sell GMO salmon.
Also last Friday, Red Lobster, with 705 North American locations and over 40 international ones, told the Dallas Morning News that it would not sell GMO salmon.
"The market is rejecting GMO salmon. Stores won't sell it and people don't want to eat it," said Dana Perls, food and technology policy campaigner with Friends of the Earth. "Now other retailers like Walmart and restaurants need to follow suit, and we need mandatory GMO labeling so that consumers know how to avoid GMO salmon."
Both Walmart, the world's largest retailer, and Publix are among the only large-scale retail grocers in the U.S. that have yet to jump on the anti-gmo salmon bandwagon.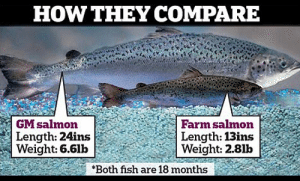 Swimming in Fishy Business
According to the FDA, the genetically modified fish, which will be marketed as Atlantic salmon, is as safe and nutritious as non-genetically engineered Atlantic salmon. As a result, the fish will not have to be labeled as a genetically engineered product.
"The FDA has thoroughly analyzed and evaluated the data and information submitted by AquaBounty Technologies regarding AquAdvantage Salmon and determined that they have met the regulatory requirements for approval, including that food from the fish is safe to eat," said Bernadette Dunham, D.V.M., Ph.D., director of the FDA's Center for Veterinary Medicine, in a statement.
Atlantic salmon holds roughly 40,000 genes — compared to the 24,000 genes humans have — so supporters argue that only 0.0025% of the genome has been altered. They claim that aside from growth, there are no discernible differences between AquaBounty's engineered product and a wild Atlantic salmon.
AquaBounty Technologies, responsible for this experiment, is a majority-owned subsidiary of the synthetic biology company Intrexon. They have also developed hybrid trout and tilapia designed to grow faster than traditional fish. Incidentally the company also produces antifreeze proteins and conducts research and development programs related to the commercialization of cryopreservatives and the antifreeze gene constructs.
Back in 2012, when the company was in a financial pickle, a "Soviet biologist turned oligarch turned government minister turned fishing farming entrepreneur" came to the rescue. Kakha Bendukidze, who became the company's biggest shareholder, used to genetically engineer viruses for vaccine use back in Moscow. His other hobbies have included mining, oil drilling, and power generation.
"Salmon is salmon. At the end of the day, economics will win," Bendukidze was quoted as saying in a 2012 article in The NewYork Times.
Aquaculture is a global industry valued at over $100 billion and is a fast-growing segment of the worldwide food industry.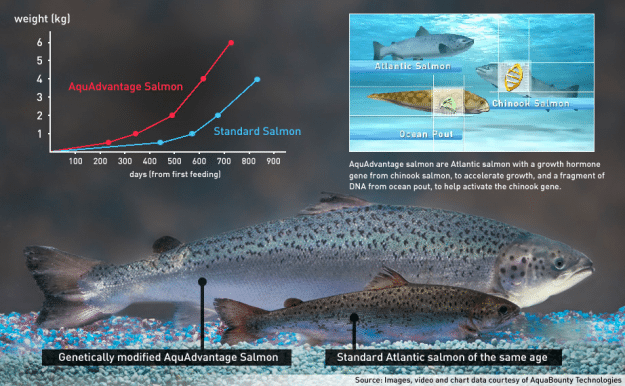 Anti-Gmo Activists and Hive Mind Power
A major concern with genetically modified foods is the transfer of potential allergens from one organism to the new food product. For example, if genes from peanuts were combined with the genes in lettuce, the resulting engineered product might be harmful to people with peanut allergies.
Aquabounty says that all their AcquAdvantage Salmon (AAS) are sterile females; ensuring there will be no gene flow to wild populations if they escape production facilities. According to CFS, an estimated two million salmon escape from open-water net pens into the North Atlantic each year. The FDA's approval of GE salmon could be the last blow to our wild salmon stocks, currently on the brink of extinction. To make matters worse, the human health impacts of eating GE fish are completely unknown.
FDA ignored millions of Americans and more than 40 members of Congress who have expressed vocal opposition to this approval. Two million people filed public comments with the FDA in opposition to this action, the largest number of comments the FDA has ever received on an action.
"We can't let them get away with ignoring the public. That's why we're taking them to court – and we need you to stand with us," Center For Food Safety (CFS) recently stated in a newsletter. CFS was able to prevent the approval of GE salmon for more than 10 years.
Friends of the Earth and the coalition are calling upon the Senate to stand firm against an industry bill that would deny Americans the right to know about GMOs in our food. The fight for GMO labeling is now heading to the U.S. Senate, where industry groups are furiously pushing for a Senate companion bill to HR 1599, the DARK Act (Denying Americans the Right to Know) passed by the House of Representatives last summer. The bill would make it illegal for states to require labeling of genetically engineered foods. It is also possible that bill supporters may try to attach its provisions as a rider to upcoming appropriations legislation.
Some members of Congress have proposed the use of QR codes, which require smartphones, as a "compromise" solution to demands for mandatory GMO labeling. According to Jaydee Hanson, senior policy analyst at Center for Food Safety, "QR codes are an unworkable, discriminatory substitute for clear, universally accessible labels. This GMO salmon is the first of its kind; the American public has every right to be wary and to want clear, on-package labeling."
"Salmon is too important for our diets, economy and cultural heritage to accept anything made in a lab — we want the real deal and applaud Costco for ensuring its customers that's what they'll get when they shop there." Heather Day, Executive Director of Seattle-based Community Alliance for Global Justice.
"People have a right to know if the fish they are eating and feeding their children is genetically engineered with the DNA of an eel-like ocean pout to continuously pump out growth hormones," continued Perls. "Friends of the Earth will be closely monitoring the market. In the absence of labeling, we will continue to push retailers to not sell this risky fish and plan to test salmon and notify consumers directly if stores attempt to hide GMO salmon under false marketing."
Grocery stores, restaurants and chefs can add their name to the Pledge for GE-Free Seafood.
Please support the lawsuit and advocacy work to prevent GE salmon from invading our waters. The TPP is making possible for this to spread everywhere even against government permission.