Little Body, Strong Will
A poster child for conscious nutrition, Gosia Reed has spent a chunk of her life creating formulas, such as Bee Panacea, with optimal health in mind. Gosia is not only the brain behind Equilibrium's Energy, Glo, and Clarity, but also an inspiring woman with an entrepreneurial spirit.
Gosia grew up in Wroclaw, Poland before moving to California. From a young age, Gosia Reed struggled with health challenges. When she was only six years old, Gosia was diagnosed with a heart condition and a kidney malfunction, which doctors believed was due to her advanced anemia. She went through many grueling tests, and became the subject of various pills, shots and treatments, which usually will take a toll on someone's mental state. Despite all these trials and tribulations, Gosia always had an uncanny sense of optimism that pulled her through.
"I remember being surrounded by pessimists and being told to just accept my fate. I guess I was innocent enough to hold on to hope and believe that I'd be okay and get better. I just lived as if I was okay, and didn't know any better," she recalls.
A Personal Shift
Gosia grew into adulthood swallowing bucketfuls of pills and powders and always fighting off health disasters. But when she turned 30, she decided she'd had enough of Western medications, and turned her energy towards discovering more natural health options by looking for the best superfoods on the market. The more she stumbled upon options, the more she became fascinated by the power of herbs and adaptogens. Before she knew it, she was measuring and ingesting bee products and tonics on a daily basis.
"I was fascinated by everything I was exposed to and delved more and more into every single superfood, bee product, pill, tonic, and supplement," Gosia explains. "I spent a lot of time, energy, and money [in] trying various solutions. My kitchen looked like a marketplace at one point!"
There was no doubt these herbs and tonics were benefiting her. Gosia, now medication free at a beautiful 46, was feeling better and her organs were testing better as well.
Gosia took advantage of her extra energy and focused it on entrepreneurial work. She managed her own Poland-based natural cosmetic brand from LA, which she eventually sold. She then went on to be the US brand ambassador and distributor for an alternative plastic surgery device—the Galvanic Spa.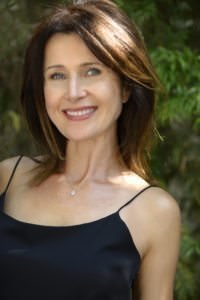 The Light Bulb Moment
With a makeshift apothecary as a kitchen, Gosia set off on a little trip to Joshua Tree, leaving her supplements behind—because how could she go camping with a suitcase full of herbs? She instantly missed taking her supplements, and felt the difference in her health. But it wasn't until she got back home that the light bulb moment struck!
"I remember being in Joshua Tree and taking pictures of the surroundings; it was so peaceful. It was only after I returned and reviewed the pictures that I came across an image of an old, decrepit jar. That's when it hit me, why couldn't all the powders and tonics I was taking exist in one simple jar? Like an all-in-one," Reed relates.
This wasn't the first of Gosia's innovations, as she is internationally renowned for her first bee product, Bee Panacea, which she then sold to move on to a new creative journey of innovative products.
The Birth of Equilibrium
Gosia began by studying each and every natural health ingredient microscopically. She spent time and energy researching how much of each superfood the body would be able to ingest for optimal efficacy. This upgraded honey fusion was born in her LA kitchen. After causing a stir amongst her savvy customers, Gosia realized there was more she could do. She went back to school at a holistic medicine university in Wroclaw, Poland, where she spent the next four years studying the relationship between the human genome, nutrition, and balanced health.
While simultaneously working on a new honey-based formula, she faced her next challenge, whether to create one product or three that served different functions. With the eagerness of her dreams and optimism of her inner child, Gosia created Glo, Energy, and Clarity. Each one infused with specific key ingredients to address different needs.
"What inspires me now is to see people experiencing more clarity and energy, and then craving that state again. My customers say they're looking forward to taking my products in the morning. It's tasty, delicious, and puts your body in a balanced state instantly, naturally, easily, and enjoyably," says Gosia Reed.
Equilibrium Energy is designed for those who lead an active lifestyle, as it aids the body in muscle recovery, while supporting the oxygen flow around the body. Glo helps skin to renew and regenerate naturally, while anti-oxidants help flush toxins out, imbuing you with a radiant look and feel. Clarity helps the brain to function with focus, concentration, and clear vision. It relaxes the mind and helps the body be more in sync with it's mental state.
Each and every one of these superfood specialties helps the body and mind reach a balanced state of equilibrium so you can function at your fullest and most healthy capacity.
Gosia explains the theories at the root of Equilibrium. "The main principles of Holistic Medicine are about bringing the body back to a balanced state. I understand what puts the body into equilibrium and how to apply this understanding and knowledge to my products. I respectfully use the ancient art of combining and crafting of ingredients to unlock the maximum nutritional potential of these special substances."
Conscious Nutrition Explained
Gosia's ingredients are all ethically sourced and she personally trains each artisan that helps create her formula trio. Making the Equilibrium superfoods in small batches to ensure quality control, Gosia settles for nothing less than perfection when it comes to her products.
"No shortcuts on the way. The integrity of the brand is held up by the process from the moment the ingredients hit the jar, to how it is stored. We are extremely mindful of what goes into the jar, [and] there is no space for anything that will not serve the body. That is what sets us apart from any other product on the market."
Stay tuned for the release of Clarity and Glo! But for now enjoy some Energy!
Sabi Datoo-Lalji is a British fashion editor and consultant living in Chelsea, NYC. She's a little too obsessed with metallics, addicted to bubble tea, and loves yoga. She also contributes to OliviaPalermo.com. Follow her whimsical footprint @sabidatoolalji
Submit your story or essay to Buzzworthy Blogs.