By Nikki Lyn Pugh, MFA, HoneyColony Original
Top 10 Most Interesting Beehive Locations
While systemic pesticide use is the main culprit behind Colony Collapse Disorder (CCD), air pollution, parasites, and the loss of farm lands also lend to their demise around the globe. In March 2011, the United Nations declared that bees have declined as much as 85 percent in some areas worldwide, especially in the highly-modernized Northern Hemisphere.
The declining bee population is an environmental wake-up call that also means a potential decline in food production for humans. "The fact is that of the 100 crop species that provide 90 percent of the world's food, over 70 are pollinated by bees," says Achim Steiner, executive director for the United Nations Environment Programme.
While CCD continues at an alarming rate, urban apiary movements in cities such as Atlanta, New York, London, and Paris are doing what they can to help bring back bee populations in their areas by placing a beehive or two in some very interesting locations. Ironically, the bees do better amid urban sprawl than in the pesticide-laden countryside. It may be a "drop in the bucket" compared to the number of bee colonies that continue to vanish each year, but these efforts stand as an important example of what a little environmental responsibility, creativity, and commitment to sustainability can do for both business and bees. Here are the top ten beehive locations.
1. Fairmont Hotels & Resorts 
Cities: The Fairmont Chain of Hotels runs beehive operations in 22 of its hotel sites including Washington, D.C., Boston, Dallas, New York, and Seattle as well as several locations in California, Canada, and Europe. Their newest beekeeping endeavors are at the Mount Kenya Safari Club in Africa and the Fairmont Beijing Hotel.
Sweet Facts: All participating Fairmont Hotels use the honey produced on their rooftop and garden aviaries for their on-site cafes, restaurants, and room service. They have been committed to these projects in North America and Europe since the early 1990s and have just recently opened up apiaries in China and Africa.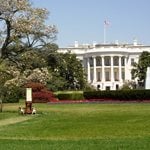 2. The White House (South Lawn and Garden)
City: Washington, D.C.
Sweet Facts: Michelle Obama is the only First Lady to start a White House Garden (initiated with the help of local fifth graders in 2009) besides Mrs. Roosevelt. And she is the very first to add an on-site beekeeping enterprise to the mix. With the help of Charlie Brandts, veteran beekeeper and White House carpenter, and Sam Kass, Senior Policy Advisor for Nutrition Policy and executive director of Obama's Let's Move! Program, the South Lawn bees now provide natural, homegrown honey for all White House culinary functions.
Inside Buzz: Vanishing of the Bees directors spent a good deal of time trying to find footage of the first lady. She appears in the closing scene of the movie.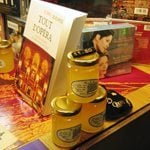 3. Opéra Garnier
City: Paris
Sweet Facts: Resident beekeeper Jean Paucton (now in his 80s) started raising bees on the porch of his Paris apartment 20 years ago. Before long, however, he moved them to the Opéra Garnier rooftop after his neighbors complained. He has been looking after the Opéra Garnier bees ever since. The five hives produce honey that is sold in gourmet shops around Paris.
Inside Buzz: HoneyColony Founder spent some time with Paucton on the roof and was surprised to find that he used cloth instead of grass to smoke his bees. His wife is a seamstress. "He also arrived to the interview with a touch too much red wine in his system," adds Maryam Henein.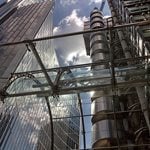 4. Lloyd's Tower 
City: London
Sweet Facts: The City of London placed hives in eight locales throughout the city in the summer of 2010. Among them were St. Paul's Cathedral, the Museum of London, and Lloyd's Tower. Opening ceremonies for the "Honey House," the pavilion where the Llyod's bees are housed, included a lecture by The Bishop of London on A Land Flowing with Milk and Honey.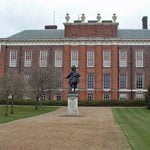 5. Kensington Palace     
City: London
Sweet Facts: Beekeeping operations at Kensington Palace are maintained by The Duke of Gloucester (cousin to Queen Elizabeth) and are currently being used by researchers at the National Pollen and Aerobiology research unit at the University of Worcester to compare differences between urban and country bees, including dietary diversity.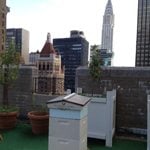 6. Waldorf Astoria New York
City: New York
Sweet Facts: The rooftop apiary on the 20th floor of this famous New York hotel is the result of a collaboration between Waldorf-Astoria Culinary Director David Garcelon and fourth-generation beekeeper and founder of the newly-formed New York City Beekeepers Association Andrew Cote . In 2012, the Waldorf harvested 125 pounds of honey and expects more in 2013.
Inside Buzz: Cote was instrumental in legalizing beekeeping in all five boroughs in 2010. He's rescued swarms of bees all over New York.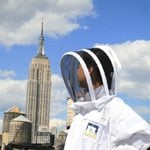 7. The Natural Resources Defense Council      
City: New York
Sweet Facts: NRDC Director of Online Communications Matt Howe only started working with bees a little over a year ago but he now manages the hive on the rooftop of the Council's Manhattan office. He even installed an infrared camera inside the hive, so he can watch his bees from his office, which is located one story below.
Inside Buzz: In 2008, the NRDC sued the Environmental Protection Agency for failing to hand over records about clothianidin, a systemic pesticide developed by Bayer AG and Takeda Chemical Industries that is deadly to bees and is used on most genetically modified corn crops.
8. Whitney Museum of American Art NYC     
City: New York
Sweet Facts: The Whitney commissioned artist Kiki Smith to design the label of their signature honey. The label is called "Flora Honey" in honor of Flora Miller Biddle, the granddaughter of Gertrude Vanderbilt Whitney and the museum's former president. An 8-ounce jar sells for $19.00 online and at the Museum shop.
City: Cambridge
Sweet Facts: Li Murphy and John Aloian, Harvard undergraduates, and organismic and evolutionary biology majors, formed the Harvard Undergraduate Beekeepers just one year ago and established their first on-campus hive last May. "Bees pose so many interesting questions to neurologists, evolutionary biologists, plant biologists," said Murphy in Harvard Gazette's September issue. "We wanted to build on Harvard's incredible tradition of hands-on, experimental biology by curating our very own beehive on campus." The Graduate School of Design at Harvard also keeps hives at Harvard.  
City: Buffalo, New York
Sweet Facts: University at Buffalo students concerned about bee disappearance and CCD created a towering beehive or skyscraper dubbed "Elevator B" in an abandoned industrial park next to the Buffalo River. It includes, among other things, a Plexiglas viewing area where visitors can watch the bees in action.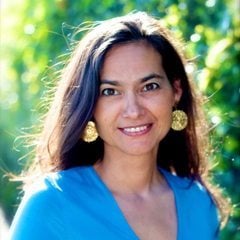 Nikki Lyn Pugh, MFA is a writer, teacher and life coach who lives in Taos, NM. When she isn't writing articles, coaching or working on her novel, she is teaching the next generation of honey lovers at the local elementary school in Taos, NM. She can be reached at AsYourWord, her website.