We've created the Movie Mana Bundle to promote education and an immune boost. This bundle includes the award-winning documentary, Vanishing of the Bees, produced and directed by HoneyColony Founder Maryam Henein, and narrated by Ellen Page, and HoneyColony's very own Equilibrium Energy Superfood. Vanishing of the Bees illustrates why are important to our lives and for the planet, and why they're been dying for the past 10 years. Our jar of Equilibrium Energy Superfood puts this knowledge to work, making the bees' magic available in a sustainable and eco-friendly way. It can be used for asthma, hay fever, liver disease, pancreatitis, insomnia, premenstrual syndrome (PMS), stomach ulcers, kidney disease, bone fractures, and more.
Movie Mana Bundle
1. Vanishing Of The Bees DVD—This documentary takes a piercing investigative look at the economic, political, and ecological implications of the worldwide disappearance of the honeybee, and brings attention to Colony Collapse Disorder. Filmed across several countries, Vanishing of the Bees is a groundbreaking story on the connection between humans, honeybees, and our planet. Through this knowledge, we can begin to help repair the damage which we're inflicting on the Earth and on ourselves.
2. Equilibrium Energy 2.3 oz– Our work day drains us. Halfway through it we're exhausted and once we're done with work we're too tired to head out and enjoy ourselves. As little as one spoonful a day of the superfood-rich Equilibrium Superfood will provide you with over 87 health benefits to keep you healthy, alert, and energized, treat and suppress numerous ailments and most importantly make you feel better throughout the entire day.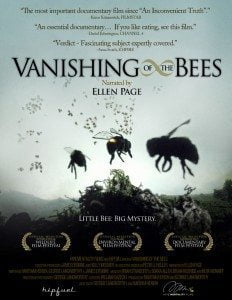 Vanishing of the Bees, narrated by Oscar-nominated Ellen Page, explores the world of Colony Collapse Disorder. The film follows commercial beekeepers David Hackenberg and Dave Mendes as they strive to keep their bees healthy and fulfill pollination contracts across the United States. The film explores the struggles they face as the two friends plead their case on Capitol Hill and travel across the Pacific Ocean in the quest to protect their honeybees.
Honeybees have been mysteriously disappearing across the planet, literally vanishing from their hives. Known as Colony Collapse Disorder, this phenomenon has brought beekeepers to crisis in an industry responsible for producing apples, broccoli, watermelon, onions, cherries, and a hundred other fruits and vegetables. Commercial honeybee operations pollinate crops that make up one out of every three bites of food on our tables.
Why We Love It:
Narrated by Oscar-nominated Ellen Page
Journey around the world to meet scientists and beekeepers
Explores the global connection between humans and bees
Explores the sacred feminine and magic of the bees
Equilibrium Energy Superfood is HoneyColony's own special blend of organic and wildcrafted ingredients—cultivated with the highest standards to bring you high-vibing energy with every serving.
At the core of this superfood is certified organic highland honey. From there, 11 other superfoods are added—each one organic or wildcrafted, potent, and boasting its own numerous health benefits. Combined, these 18 ingredients bring harmony to a life filled with stress, toxins, and negative energy.
Equilibrium Superfood is made in small batches to ensure high quality, exact measurements, and consistency in every jar. To ensure our product never loses integrity, we use high-quality MIRON Biophotonic jars that only let sunlight in to improve the substances in each formula.
Equilibrium Energy Superfood is ideal for people who live an active lifestyle or who need an extra boost in their daily life. Through naturally stimulating the nervous system, enhancing brain function, supporting muscle relief, and providing anti-inflammation support, each jar will keep you in the energy zone. For those of us who seize life in its whirlwind of activity, Equilibrium Energy offers the support to never feel sluggish mentally or physically, midday or at the end of the day when you need time for yourself.
Health Benefits
Our 87 Benefits of Equilibrium Superfood That Will Change Your Life offers a more detailed breakdown of these ingredients, their health benefits, and why Equilibrium is the ultimate super superfood.
Suggested Use: Stir after opening. You only need a teaspoon a day of this super potent superfood blend, preferably on an empty stomach. Extremely POTENT.

Why We Love It:
Superfood formula comprised of 18 individual superfoods
Provides long-lasting, cellular energy
Increases stamina and endurance
Improves oxygen utilization for enhanced performance
Supports physical adaptability
Boosts electrolytes
Boosts anti­-oxidants
Supports DNA and cellular repair
Enhances brain function
Anti-inflammation, anti-bacterial, anti-viral support
All bee products come from family-owned California farms
High-quality jar protects from the negative influences of light
Each batch receives a Certificate of Analysis to ensure the highest quality
Non-GMO
All ingredients are certified Organic or wild-crafted
Free of added sugar, gluten, soy, nuts, wheat, herbicides, and pesticides
PACKAGING
To preserve the sublime quality of our products, we choose the highest quality glass jars. Comparable to the packaging materials available on the market, these innovative jars sufficiently protect sensitive products from the quality-lessening influences of light. The MIRON Biophotonic jars work like natural filters, only letting in the sunlight that protects and improves the substances in each formula, making our products a trustworthy and essential food supplement in every household.
CONSISTENCY
Please note that due to the fact that we work only with raw, wild-crafted bee products and different types of honey, the consistency of the product may vary (from more liquid to more solid) from jar to jar. It is normal to see some small particles on the top of the jar, these are simply herbs and superfoods. We recommend mixing the product before first use.