Zatik's Black Cumin Seed Oil Supplement is an all-purpose oil that invigorates, enriches, and helps maintain overall health. Black cumin is an ancient seed that has been found in archaeological sites, including King Tutankhamun's grave. This miracle seed has been used for centuries to promote health.
Found in southern Europe, northern Africa, and in Asia Minor, black cumin seed comes from a bushy, self-branching plant with white or pale to dark blue flowers. In folk medicine, black seed oil has been used to support your health while dealing with illnesses such as bronchial asthma, headaches, dysentery, infections, obesity, back pain, hypertension, and gastrointestinal problems. Zatik has delivered premium quality cold-pressed Organic Egyptian black cumin seed(Nigella sativa) that contains these three key ingredients:
Phytosterols, which promote healthy blood cholesterol levels
Tocopherols, protect cells and tissues against oxidation and advanced aging
Thymoquinone, which studies suggest may reduce inflammation and ailments that arise from cellular mutation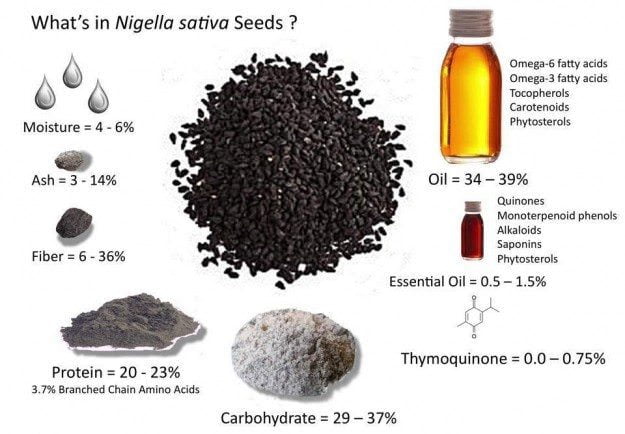 The cold-pressed process preserves all the health benefits of the seed as it is transformed into oil. Historically, it has also been used to fight bacteria, viruses, helminths, and fungi. Modern medicine has shown black cumin to have anti-inflammatory properties and provide relief from joint ailments.
Why We Love Black Cumin:
Made in the USA in an NSF GMP Certified Facility
Unrefined premium quality organic cold-pressed oil for maximum health benefits
Contains thymoquinone which aids in balancing cholesterol
Contains the potent antioxidant thymoquinone
Contains tocopherols, which supports a healthy immune system and boosts metabolism,
Contains Omega fatty acids for a healthy heart and artery
Warning: If you have any medical condition, pregnant, nursing, or taking any medications, consult your doctor before use. Keep away from children.