By Blake Buford, HoneyColony Original
The McRib is back, and it is disgusting.  TIME Magazine looked at what's actually in the infamous invention at McDonald's, and the results aren't pretty:
"If you haven't indulged in one yet, here's what you're missing: azodicarbonamide, ammonium sulfate and polysorbate 80 — those are just three of the 70 ingredients (34 in the bun alone) that go into the BBQ pork sandwich, according to the restaurant's website.
These components are in small enough quantities to be innocuous. But it's still a little disconcerting to know that, for example, azodicarbonamide, a flour-bleaching agent that is most commonly used in the manufacture of foamed plastics like in gym mats and the soles of shoes, is found in the McRib bun. The compound is banned in Europe and Australia as a food additive. (England's Health and Safety Executive classified it as a 'respiratory sensitizer' that potentially contributes to asthma through occupational exposure.) The U.S. limits azodicarbonamide to 45 parts per million in commercial flour products, based on analysis of lab testing."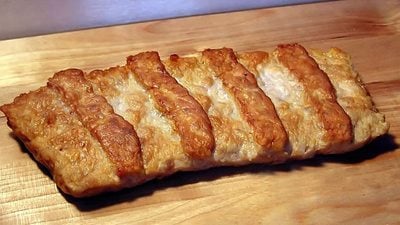 If that's not nasty enough for you, the gelatinous, manufactured, meat-like patty in the McRib is made using "restructured meat technology," a term which has thankfully been defined for the masses:
"Restructured meat products are commonly manufactured by using lower-valued meat trimmings reduced in size by comminution (flaking, chunking, grinding, chopping or slicing). The comminuted meat mixture is mixed with salt and water to extract salt-soluble proteins. These extracted proteins are critical to produce a 'glue' which binds muscle pieces together. These muscle pieces may then be reformed to produce a 'meat log' of specific form or shape. The log is then cut into steaks or chops which, when cooked, are similar in appearance and texture to their intact muscle counterparts."
To try to polish the McRib's reputation, McDonald's is now making a concerted effort to tell news outlets that "no tripe, heart, stomach, offal or similar parts are used" in the patty. Phew! The sandwich was beginning to sound gross!