By Jayson Matthews, HoneyColony Original
Humankind has long railed against the relentless hands of time. Spanish explorer Ponce de León's quest for the "Fountain of Youth" lives largest in the cultural imagination, yet similar cure-all folktales abound worldwide: Native American Cahuilla Indians revered the red sap of the Elephant Tree, Hindu scripture refers to Amrita, a god-given substance hidden beneath the depths of the sea, and more than one Chinese emperor has allegedly died from mercury poisoning because a royal alchemist swore the chemical element had auspicious qualities.
Monika and Gosia Kozdrowiecka don't pretend to have found the elixir of life. But the sisters of Virgin Raw enjoyed their own soul-searching quest to develop a signature product called Bee Panacea, which might be the next best thing to finding eternal youth.
Crafted in Gosia's own kitchen in 2011 following a year of trials, Bee Panacea is a veritable elixir of nutrition, resulting from a combination of dozens of nutrient dense superfoods such as bee pollen, royal jelly, and propolis. The panacea also contains chlorella (a micro-algae and powerful chlorophyll-rich detoxifier), spirulina, maca (a root used to balance endocrine hormones and enhance the immune system), ginseng, a host of other herbs, a sprinkle of Himalayan salt crystals, and four strains of probiotics wrapped in a thick lather of locally sourced raw honey.
"In the beginning, we just sold stuff we loved made by other people," Monika explains about her company. "But then we started working with doctors, nutritionists, and other health experts to develop (the panacea). We went through an exhaustive process to finalize a formula, which ended up being quite complex."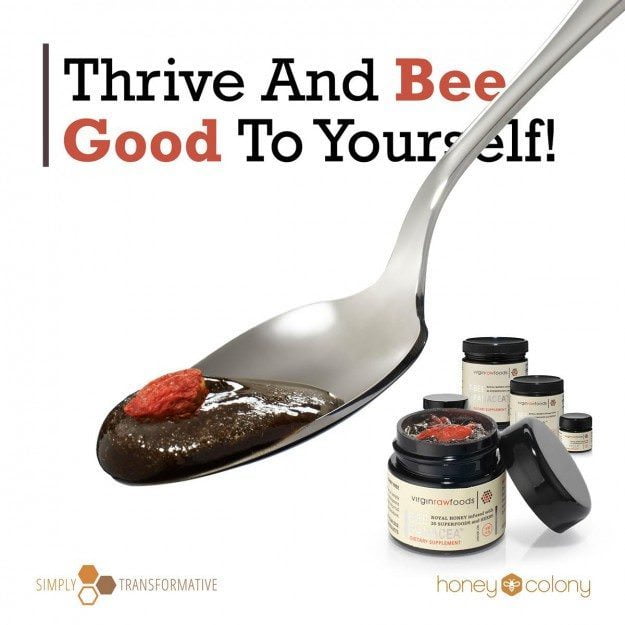 Indeed, it would be difficult to find a complete source of this much high nutrient content in one place, all of which have shown profound health benefits. Raw honey has even begun to gain endorsement from mainstream experts. Even "The Today Show" (not exactly known for pushing the boundaries) did a segment on its benefits in early 2013.
The Kozdrowieckas sold their first samples of Bee Panacea from a little table stationed at a local co-op and immediately enjoyed a fan base of customers who praised the laundry list of superfoods packed into each spoonful. YouTube videos and scads of other online reviews quickly followed, featuring newly devoted Panacea-ites touting everything from weight loss and increased energy to enhanced immunity and regularity with every bite. Even big wave surfing legend Garrett McNamara recently became a fan (as well as the product's first celebrity endorser). Impressive, considering the sisters rely solely on word-of-mouth advertising.
"We spend nothing on marketing," Monika says. "We firmly believe in karma, so we don't push our products on anyone. Customers come to us because they love what we sell."
"In less than two years, the panacea already accounts for 95 percent of our sales," adds Gosia, who recommends one teaspoon each morning since it's so potent.
The Long And Winding Road From Poland To Panacea
The sisters' karmic approach is rooted in the winding road that brought Monika and Gosia together to launch Virgin Raw (VR) in the first place. Born in Wrocław, the largest city in western Poland, the pair could have been poster children for hardscrabble Cold War stereotypes. From a tiny studio apartment where their family resided, the two girls would descend four flights of rickety stairs to fetch water and coal in buckets, lugging them up to cook, wash, or huddle around an open fire.
"We were lucky, though, because our grandmother had a small farm in a village outside the city," Monika says. "That was really our first experience with locally sourced food, though nobody called it that. It sparked our interest in nutrition from an early age."
Then life got in the way, as life often does. Six years older than her sister, Monika went off to university to study psychology and later ended up working as an au pair in the United States. The travel bug soon had her touring throughout Asia, where she became enamored by the homeopathic approaches to health and medicine she found along the way.
Gosia, meanwhile, studied nutrition and launched her own natural cosmetics line back in Poland. Although not very close to her sister during this period (demographically or emotionally), she visited Monika in California on a whim a few years later. That's all it took for the sisters to forge a vital friendship.
"We discovered that we were reading the same books on health and wellness and that our interests had almost telepathically joined after all that time apart," Monika says. "Virgin Raw is really the result of us coming back together as a family."
Now virtually inseparable, the sisters compare themselves to the worker bees so vital to VR's burgeoning product line — putting everything they have into the business. They take that comparison seriously, too, regularly visiting local beekeepers where their honey is acquired to ensure no additives are used and that the bees are properly treated.
Aside from being simply good karma, this measure highlights a long-standing controversy over the harvesting of royal jelly (the secretion that feeds both the larvae and the queen). Such harvesting is frequently targeted by critics who decry the use of honey products from Chinese companies, which are largely suspect when it comes to sustainable beekeeping practices.
"Nothing comes from China," says Monika. "We always make sure our beekeepers take the proper measures to obtain the royal jelly without causing any damage to the hive. That's priority one for us."
Virgin Raw honey candies and nutritional bars are now in the works following the success of the Bee Panacea, though neither sister appears worried about how their future products will be received.
"We're learning every day about how to make the best products with the best nutrients," says Monika. "And we are together. That was our mother's biggest dream for us. That's all that matters."