By Sarah Gilliam, HoneyColony Original
My role as an environmental steward started when I was 6 years old. One of my earliest memories is going to eco-camp in a very muggy, swampy part of North Carolina. At camp I collected water samples, looked at bugs under a microscope, and got muddy enough to forget about the mosquito bites that dappled my small legs. This was my introduction to the importance of respecting and enjoying the great outdoors. My family moved away from North Carolina a year later, but I always had a feeling I would make it back to the Tar Heel state that christened my love for nature.
[google_adsense_01]
Welcome To The Port City
North Carolina continued to tempt me back to its sandy shores. I was fortunate to spend three summers on the Outer Banks, a series of barrier islands extending into the Atlantic Ocean. One summer when I was 21, I drove through the coastal city of Wilmington and thought how cute it was. I felt embraced by the mossy oak tree canopy as I drove down Market Street, the lifeline to Wilmington's historic downtown that overlooks the mighty Cape Fear River.
Little did I know that I would one day call this street my home. After some soul searching and a bit of luck (the University of North Carolina at Wilmington had the exact graduate program I was interested in), I moved into the iconic Carolina Apartment building in downtown Wilmington. The historic building was the Cape Fear Apartments in the cult-classic film Blue Velvet.
As an environmental policy grad student, I studied North Carolina's regulations regarding air, water, wetlands, and other coastal practices like "beach renourishment." One day in class we started talking about a proposed cement plant and the various state agencies responding to the company's request to locate on the Northeast Cape Fear River.
I was suspicious when I heard that the state's Division of Marine Fisheries was planning to submit a public comment expressing its concern about the plant's potential impacts to water quality and local fisheries. After doing some internet research, I went to the DMF's public meeting where salty, bearded fishermen batted around their various ideas and opinions about what one of the nation's largest cement manufacturing facilities and limestone quarries could do the already mercury-impaired Cape Fear River.
During their back-and-forth conversation, I was transported back to the muddy memories of camp. The heartfelt discussion between the most unsuspecting environmental advocates was my second awakening to the importance of everyday people doing their part to stand up for the community. I was hooked on fighting Titan Cement.
Now owned by Titan Cement, the former Ideal Cement Company and mine is located on Cape Fear River, which is the largest river basin in North Carolina and has ecological diversity ranging from salt marshes to blackwater swamps.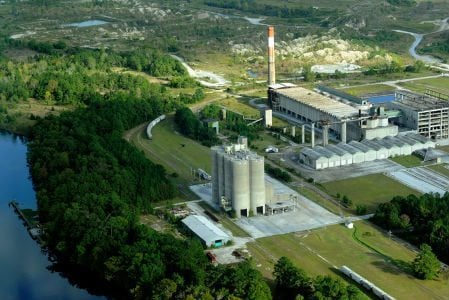 Who Is Titan?
Titan Cement is an independent multi-regional producer of cement and other related building materials with headquarters in Greece and facilities in 13 countries around the world. Currently Titan operates and owns a cement kiln and mine in Troutville, Virginia, and a cement kiln in Medley, Florida. In the early 1990s, Titan's U.S. subsidiary purchased property outside of Wilmington, North Carolina, in a quiet rural community called Castle Hayne. Located on the banks of the Northeast Cape Fear River, this property is the former site of a small cement plant and limestone mine that was decommissioned in the early 1980s.
HoneyColony Recommends: EcoLunchbox Solo Cube – You'll Never Throw Away Another Plastic Sandwich Bag
In May 2008 the community was given a three-day notice that Titan was planning to build a large cement manufacturing facility and limestone mine, about three miles away from the two newest public schools. North Carolina and New Hanover County were offering Titan a $4.5 million incentive package to locate in our community, yet no one actually living in the area fully understood the health and environmental impacts of this proposed facility.
The incentive package triggered a public hearing and, despite the short notice, hundreds of parents, business owners, doctors, and environmental groups showed up to ask for more time to review this potential polluter. Their request was ignored, and Titan was awarded the money to locate in our community. The incentives were hotly contested, and the company actually ended up giving them back to delay a more stringent review process.
Cement Is To Concrete What Flour Is To Bread
Five years ago our community knew very little about the cement industry and what went into the cement-making process. Think of cement as flour, a raw material that becomes something more valuable like bread. Concrete is the most popular building material, and it's made from cement. To make cement, companies need access to limestone, which is prevalent in Southeastern North Carolina.
Portland cement is made by heating limestone in a kiln to 2,600 degrees Fahrenheit, then grinding the result into fine powder and adding a small amount of clay to produce clinker. Later the powder is mixed with sand, stones or other aggregates, and the result is concrete.
The extreme heat needed for the cement kiln is typically generated by burning coal, but in recent years some cement kilns have switched to burning alternative fuels such as plastics, tires, agricultural and animal wastes, solvents and other chemicals, shingles, carpets, municipal, industrial, and medical wastes, and auto fluff (shredded car interiors which can contain PCBs, mercury, and asbestos).
For the proposed facility in our community, Titan has alternative fuels listed in its approved air permit, but our regulators have only given them permission to burn coal in their kiln—the devil is quite literally in the details. We in no way will accept the burning of these materials near our two newest public schools and we intend to keep a very watchful eye on Titan's fuel sources.
According to the company's most recently approved air permit, which is currently being challenged by the Southern Environmental Law Center, Titan proposes to burn over 200,000 tons of coal per year, along with limestone that they will mine in a nearby quarry proposed to destroy thousands of acres of wetlands. According to air permit approved by the N.C. Division of Air Quality, Titan's plant will add 12 million pounds of annual emissions to our air.
Seems unbelievable that our regulators would approve this amount of pollution, right? I still can't wrap my head around that number.
Another component of Titan's project involves using over 2,500 acres (roughly three times the size of New York City's Central Park) as its limestone mine. Can you fathom the environmental impact? Titan has not applied for its mining permit, but previous scoping documents specified that its mine could be more than 70-feet deep, which would leave a badly scarred, tree-less moonscape of exposed white limestone rock.
Citizens met at the Castle Hayne Elementary School in Castle Hayne to participate in a community march in protest of Titan's proposed cement plant.
Protecting Our Way Of Life
Our community has risen to the challenge of protecting our health and quality of life by keeping Titan off our river for over five years. That's a huge accomplishment when you think of the unfortunate state of the economy. I tell people all the time that it's probably the most difficult time in U.S. history to be going up against job creation, but the citizens in this area firmly believe we deserve better.
We've rallied over 100 small business owners and over 300 local medical professionals to speak out against Titan. We've collected over 15,000 petition signatures at farmers markets, health fairs, and college campuses in town. We're not giving up!
Armed with facts, everyday citizens and a few talented lawyers are standing up to a multi-billion-dollar corporation and calling on their elected officials and regulatory agencies to protect the people's health and well-being. After all, it's their job, right?
Throughout this process, I have personally grown as an activist and learned what it means to stand up for my community. A very positive change has occurred in this area since Titan came calling with the promise of jobs but without all the facts. People are talking to each other about their vision for this community, and we are empowered to do whatever it takes to make that dream a reality.
Our community's connection to our coastal haven, much like my muddy days at eco-camp, will outlive the Titan fight, and that's a lasting accomplishment that no amount of money or high-powered lobbyists can take away from us. People power is real, and I know in my heart that we'll stop Titan.
To keep up with our fight, visit our website or find us on Facebook and Twitter.