Damiana (turnera aphrodisiaca) has gained quite the reputation both in herbal medicine and in trendy social scenes for turning up the heat. Bartenders in Texas are mixing damiana liqueur into cocktails to help get the clubs shaking and savvy Colorado chefs are dishing out aphrodisiac treats of damiana, cannabis, and chocolate sweetness. Unlike many other herbal products marketed as aphrodisiacs and natural Viagra, damiana isn't just a load of marketing hype. There's a lot of scientific research to back up damiana's claims for revving up libido and sexual performance.
Damiana's bright, aromatic yellow flowers bloom from small shrubs native to Central America, South America, the southwestern US, Mexico, and the Caribbean. Latin American cultures enjoy drinking the herb as a sweetened tea, and it's also used in Mexican liquors. There were so many reports of damiana's erotic power that the herb was actually prohibited in some parts of Latin America.
Traditional native healers prescribed damiana not only for sexual enhancement, but also as an antidepressant, antiseptic, and diuretic. Research shows that these benefits stem from the herb's active ingredients, which include tannins, resins, and five types of flavonoids, which  provide health benefits through cell signaling pathways and antioxidant effects.
Sandra Denis, an herbalist based in Beer Sheba, Israel, shared her experience with this herb:
Many of my clients experienced a big positive shift in their lives with the incorporation of damiana. Besides its dodo-enhancing qualities, it's proven for its calming and antidepressant qualities. Damiana's leaves can be smoked or used to make a potent tea. It's effects can be noticed rather quickly; if one is in low spirits, they'll notice a swift shift upping their mood.
6 Ways Damiana Works
1. Reduces Vaginal Dryness and Increases Female Sexual Desire
Fifty percent of women suffer from vaginal dryness. Many women also feel like their sexual drive ebbs at different times due to hormonal shifts or other factors. The University of Hawaii conducted a double-blind study on women who wanted to improve sexual function. A portion of the women took ArginMax for Women (a nutritional supplement containing Damiana along with other herbs that improve blood circulation to sexual organs, like ginseng, ginkgo biloba and L-arginine). After four weeks, 73 percent of the women reported an overall improvement in their sex lives, compared with just 37.2 percent of those in the placebo group. They reported reduction of vaginal dryness and more frequent sexual intercourse.
Denis advises: "Damiana has enabled many women to experience levels of sexual satisfaction they'd never imagined. Just be warned, it is also known to increase fertility, so make sure birth control and family planning have been discussed in advance."
2. Intensifies Female Orgasms
Is there a woman out there that doesn't want to boost their pleasure levels? Unfortunately, about 10 to 15 percent of women never climax in sexual intercourse, and about 75 percent of women find it very difficult to do so. Well, damiana can help increase both the frequency and potency of orgasms.
The study at the University of Hawaii also discovered that women who took damiana (in combination with the other herbs) experienced more frequent orgasms and increased clitoral sensation.
3. Viagra-Effects Without Harmful Side Effects
The popular drug Viagra, has many dangerous side-effects such as increased blood pressure, urinary-tract infections, heart attacks, strokes, and even sudden death. Damiana works exactly the same way, without any negative side effects. Researchers from the University of Buenos Aires, in Argentina found that damiana improves male sexual dysfunction by relaxing the small muscles within the walls of the arteries of the penis. This is important because when the arteries are relaxed they widen and allow more blood to pass through them, which is what causes an erection.
The study found damiana to be even more effective than Viagra. Viagra relaxes the arteries of the penis by an average of 46 percent while Damiana relaxes the arteries by an average of 90 percent.
"One of my clients, a man in his early 70s, found himself totally invigorated by damiana; he couldn't stop raving about how pleased his lover was," Denis explains.
4. Reverses Impotence And Enhances Sexual Performance
Several health conditions or even emotional stressors can reduce a person's potency and put a damper on one's love life. Researches at the University of Modena and Reggio Emilia, in Italy, studied how Damiana works on a group of impotent rats. The result was both a shortened interval between sexual intercourse and a significant increase in the number of rats that managed to achieve ejaculation.
The scientists concluded that "these results seem to support the reputation of damiana and Pfaffia as sexual stimulants."
5. A Healthy Alternative to Menopausal Hormones
Hormones generally rage directly before, during, and after menopause; it's also a time when many women experience a lack of sexual desire. The University of Hawaii conducted another study on ArginMax (an herbal mix that includes damiana) and found it improved sexual desire and overall satisfaction in sex lives of 72 percent on both pre-menopausal, menopausal, and postmenopausal women. The largest number of attribute improvements were seen in PRE and PERI women, although attribute types vary among these groups. The overall level of desire was shown to increase significantly in POST women.
These scientists also confirmed that damiana does not have any affect on the female hormone estrogen. This means that there's no risk attached to its use that it might cause oestrogen-dominance and oestrogen-related cancers like breast cancer. This makes it a very healthy alternative to the hormones generally prescribed for birth control.
According to Denis:
Two to three cups of damiana tea per week can make menopausal symptoms disappear for many women. What's more, damiana can balance hormones in women who experience premenstrual tension (PMT) so that they no longer experience painful symptoms, either.
6. Aids in Feeling Full After Smaller Meals and Overall Weight-loss
Not only does a fit body improve one's self esteem and enhance overall sexual performance in the bedroom, but it's an important factor in steering clear of sexual dysfunction. Erectile dysfunction is not just a byproduct of obesity, but also anyone who may just have a little extra weight. Research shows that just an extra 30 pounds can lead to erectile dysfunction. Luckily, damiana can aid with this issue, as well.
Researchers in Charlottenlund, Denmark found that damiana prolongs the process of gastric emptying, a digestive process that allows your stomach to feel full, for a longer period, after eating a small meal that usually wouldn't fully satiate you. Participants experienced significant weight-loss during the 45-day period of the study.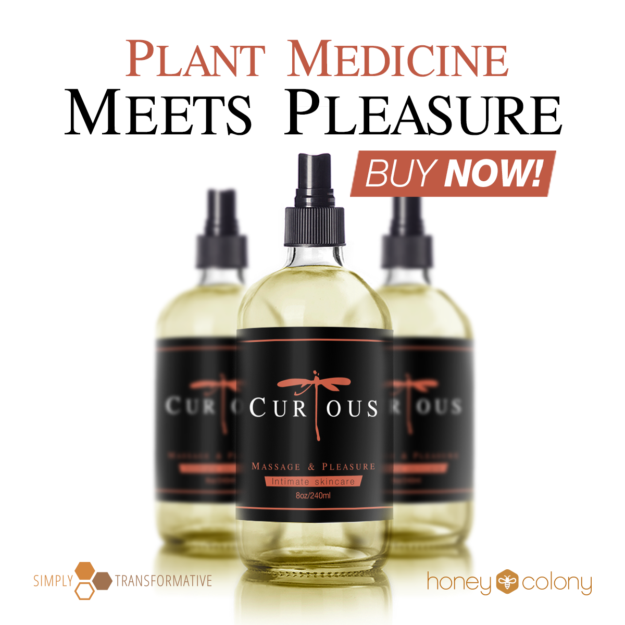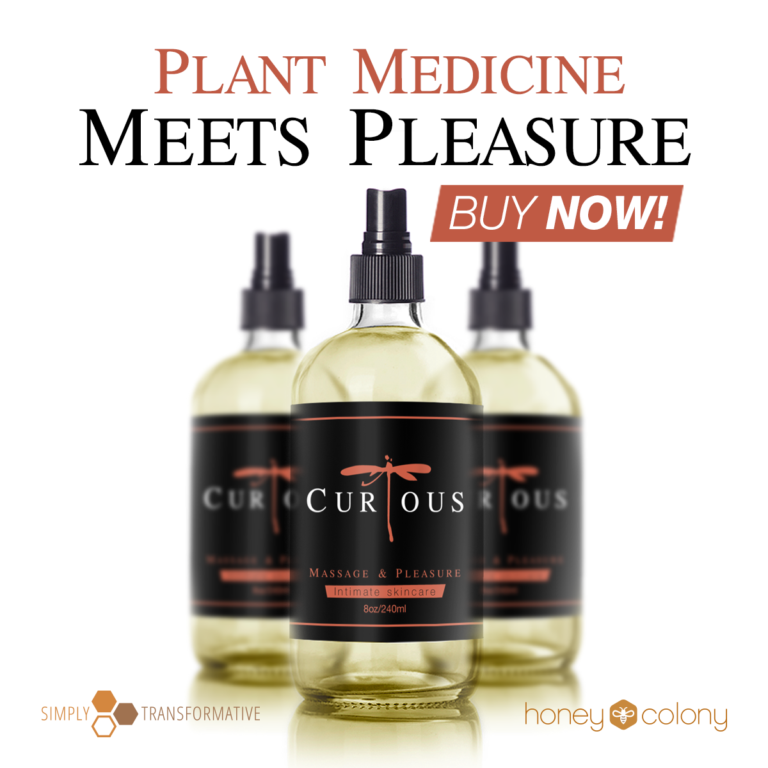 Get Your Damiana On
If you're looking to boost your libido with damiana, drinking it as a tea can be very effective. Denis advises:
Add one teaspoon of dried Damiana to a pot of hot water to make a pleasant, strong dose of the tea. Feel free to mix in some honey, if you like. If you're taking it to increase your libido, try drinking two cups of it each day, for a maximum of two weeks. Then, lower your consumption to three cups a week.

There's a theory that excessive consumption of damiana can lower a person's iron-absorption. This theory has not been proven, but just to be safe, it's better not to overdo it. If you're taking damiana on a regular basis, stick to three cups of the tea per week."
For women who are looking to up their sexual pleasure and relieve vaginal dryness, one of the most effective ways to get the benefits of damiana is through direct application to vaginal areas. HoneyColony's new Curious massage oil and lubricant contains damiana in its formula, along with other powerful herbs that naturally inspire vaginal lubrication.