Designer, beekeeper, and alchemist Roxana Villa creates organic perfumes to remind us of our own essential nature and the connection with mother earth. These fragrances are mindfully crafted from the vitality of nature using whole essences from the plant world. Eco-friendly and consciously made nature perfumes are ideal for those sensitive to synthetic fragrances. Perfect for the naturalist.
Created with plant materials, these intoxicating golden elixirs are each poured into a pink pot with an iconic honeybee wax seal.
In the same tradition of the gourmet artisan culinary arts, Roxana Villa, designer and alchemist care for bees and hand makes these botanical fragrances that resonate with the vitality of the landscape.
Villas uses the highest quality raw materials from nature. Choose three samples for your trio of intoxicating golden elixirs. Please note this is for three small sizes of at least 0.5 grams to give you sense of the scent. This sample is made to test on the skin, experience the natural aroma and then make an informed decision as to which larger size to purchase.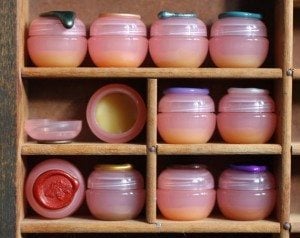 Choose from THREE from these following scents:
AURORA: An Ambery, floral spice. Delicious.
AUMBRE: Warm botanical amber.
Figure 10: BLANC: An ode to the vanilla orchid bean weaved with notes of driftwood.
CHAPARRAL®: Sweet and vegetative wood with incense.
CHIAROSCURO: Jasmine with spice, vanilla and patchouli, feminine and sweet.
CIMBALOM: Incense and jasmine. Sensuous and intoxicating.
GRACING the DAWN: The aroma of purple painted with florals and botanical leather.
GREEN WITCH: A traditional Chypre primary notes include seaweed, wood, jasmine and rose.
HEDERA HELIX: Inspired by Ivy, a classy, green floral fragrance on a bed of moss.
LYRA: Jasmine and ylang ylang. Very feminine.
PAGE 47: Nectarous orange blossom and honey
"Q": A Warm, Sweet Wood with incense and a hint of smoke.
ROSA: Earthy Rose
SIERRA SOLID GOLD: Spicy, sweet, evergreens.
TERRESTRE: Melody to earth, amber and chocolate notes.
TO BEE: An ode to the honey bee. Warm spice, with beeswax and amber notes.
VERA: Lavender fields, sage, orange blossom and a slight saltiness like sun-kissed skin.
VESPERTINA: Romantic floral, incense, wood, spice & citrus
or the brand new
Figure 1: NOIR: Feral, animalic, earthy and dark, an ode to patchouli.  HoneyColony Founder's Favorite!) 
Please email info@honeycolony.com to specify the scents.