By Lauren Amerson, HoneyColony
Ingredients
½ cup raw almond flour
1 cup raw shredded coconut
dash of salt
1 tbsp Goji Joy (goji extract by Longevity Power)
1 Maca Bliss (black maca extract by Longevity Power)
⅓ goji berries, soaked 30 minutes
2 tbsp raw almond butter
Make It Happen
In food processor, process dry ingredients briefly until combined.
Add remaining ingredients and process until well combined.
Using your hands, form into balls.
Enjoy immediately or store in the fridge.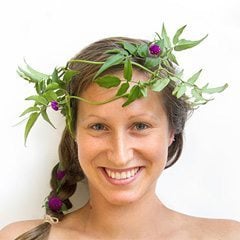 Lauren Amerson is an eclectic, self-taught artist, and raw-vegan superfoodist with a background in massage therapy, dance, and yoga. She released her first recipe book, Homemade Chocolate in the Raw, this year! Lauren also loves organic gardening, horses, spring water, natural living, and learning.
Submit your story or essay to Buzzworthy Blogs.