Healthy poop talk has been all the rage here at HoneyColony lately, from Howard Stern's love of the Squatty Potty to our support for the Cameron Diaz book.
The Body Book by Cameron Diaz
Cameron Diaz, whose career as a box office starlet spans two decades, wrote the No. 1 New York Times best-seller The Body Book: The Law of Hunger, the Science of Strength, and Other Ways to Love Your Amazing Body. In Cameron's first foray into writing, she tackles health and wellness. The result is an honest and educational discussion about our bodies.
One of the more surprising revelations in the Cameron Diaz book is her honesty about pooping. Yes, pooping. After the book was released, she appeared on The Dr. Oz Show and talked about different kinds of poop, what constitutes a healthy poop, and how she wakes up her digestive tract every morning — by drinking a liter of water.
Dr. Oz asked the audience to take balls of clay and mold them into the shape of their last poop. Cameron wasn't shy about sharing her healthy poop prototype, and Dr. Oz wasn't shy about demonstrating how a healthy poop should hit the water like "an Olympic diver." As far as we know, that was a first for daytime television. She is also big on squatting for optimal elimination.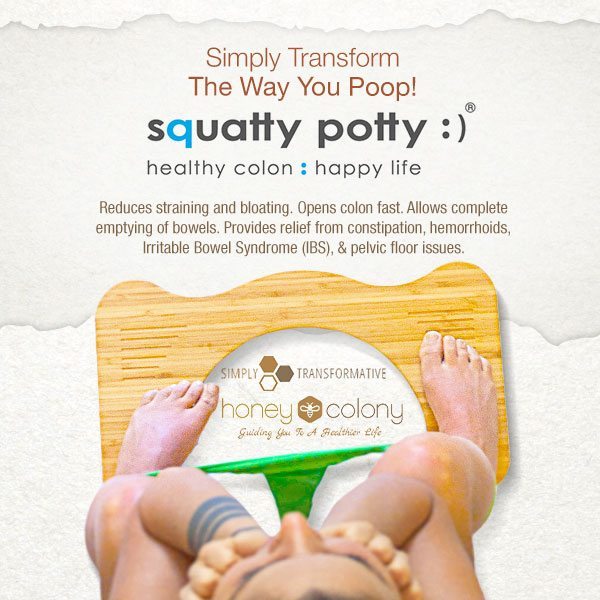 Howard Stern Loves the Squatty Potty
In other celebrity poop news, Howard Stern, who is no stranger to the topic, has been talking up the benefits of the Squatty Potty on his radio show. The Squatty Potty is a simple, ergonomically designed step stool that allows you to sit at the perfect angle when pooping on a Western toilet.
Stern claims that the Squatty Potty makes all the difference for a "full elimination," which leaves him feeling incredible. His co-host, Robin Quivers, also uses the Squatty. And the guys on TMZ have been expressing mucho amor for the Squatty Potty as well.
It's All about Healthy Poop!
The health of your colon and digestive tract is fundamental and will allow you to reach optimal health overall.
Learn more about what you can do to have consistently healthy bowel movements and try the Squatty Potty to help guide the way to relief from a number of conditions, including flatulence, irritable bowel syndrome, hemorrhoids, and constipation.
The Body Book by Cameron Diaz – Listen to Diaz talk about the book here:
Erika Bijl is a woman of many trades, including being a writer and editor for a wide variety of online publications. The topics of health and wellness are very important to her. Due to health challenges earlier in life, Erika has a special knowledge and appreciation for the role that nutrition, supplements and a healthy lifestyle have played in her healing journey, as well as love and joy. She is an avid world traveler and loves experiencing the world with her husband Jaap.
Submit your story or essay to Buzzworthy Blogs.