The food movement (sustainable food movement, organic food movement, local food movement, whatever you call it) has experienced feast and famine over the past decade.
What a long strange trip it's been, and I feel like we are still barely out of the gate. In 2010, I founded rel="nofollow noopener noreferrer">Out of the Box Collective, a B-corp certified farm-to-table home delivery service, which now delivers to customers in over one thousand zip codes throughout Southern California – and is one of the leading San Diego grocery delivery services. I had been living abroad for nearly 25 years before I moved back to the United States in 2008, just in time to witness the bank's walk into Congress to demand a few trillions of dollars – "or else!"  Was it a coup d'état by the banks? It felt like it – not that they haven't been the puppet masters since the original 13 states were created – but now it was overt.
I watched with delight as the #occupy movement was born, and in turn the sustainable food movement was running on this political energy to fight against Big Money, Big Food, toxins being sprayed everywhere, and the centralization and the dumbing down of everything – from what we eat to what we think.
So, in my mind, Out of the Box (OTB) Collective was born as an #OccupyYourFood initiative: a way to opt out of Big Food, support your local community of sustainable farmers and food makers, gather around the table with your friends and family, eat healthy food cooked with love, and, perhaps most importantly, to talk over your food: Connect. Nourish. And feel.
And over the next few years, the birth of this company coincided with a surge of new small-scale food businesses –– people who were hit hard by the recession, and who, like me, were figuring out a way forward with what they could grow or make with their hands: simple things they could be proud of and that would make others happy. The whole feel of it was exceedingly human, generous, and full of love: jams, pickles, soup, kumquats, you name it. People were growing it, making it, loving it.
Meanwhile, states across this great nation were organizing ballot initiatives to label GMO's, and nonprofits, like Food Democracy Now, were mobilizing people. College students were opting to get summer jobs on farms rather than Wall Street. This Food Revolution or Food Movement felt real and important – people felt empowered to be part of the solution, every day, in their own little ways. At the same time, social media was exploding with a focus on food, captured primarily on Instagram, making this initiative visual and exciting.
Riding The Food Movement Wave
The momentum grew, and of course the VC Money came on board. Silicon Valley believed that it could be the bridge that would make everything work. Platforms were born to consolidate, simplify, streamline. And then the big guys started to move in on the local scene – vibing both over the local food movement and also the back to cooking movement – in the form of meal kits and home delivery and uber convenience. It was rough for the small companies that started out in the beginning: some of these big guys with deep pockets came into the space, got everyone excited, and then left just as suddenly (think Good Eggs in LA or Farmigo in Brooklyn). Small local vendors who had based their business model on this additional revenue were hurt. On the political side, the state GMO-labeling initiatives were derailed by corporate interests with a sham national GMO-labeling law that legislators passed just days after the landmark Vermont GMO labeling law went into effect. All that work, seemingly went down the drain.
While this was happening, small home-bred farm-to-table companies struggled to compete, operating in a grassroots manner, without big investment money to spend on "data mining," or "customer acquisition." OTB watched as our local competitors either fell over or were bought out, one by one. It started to feel like a graveyard of farm- to-table businesses here in LA, with a new tombstone erected every few months. Summerland, LOVE delivery, SPUD, Farmbox, Beachgreens, the Venice Merchant: they are all gone; replaced by heavily financed companies with national market aspirations.
OTB didn't celebrate these losses; we felt each time as if another family member were lost, an increasing void. Today, OTB is more determined than ever to stay strong and build our community together. We have watched and learned, and we have had the time to reflect – and we hope to honor those who didn't make it with new solutions. Part of the answer to the question, "How do we make the food movement economically viable?" has to do with scale. What is the appropriate scale for a business serving the community we have in Southern California, one of the densest communities in the world? What are the parameters we should aspire to for our sourcing and for our distribution? If a small, hyper-local company cannot survive, do we have to go national; become "Big?"
The answer is "no," we don't need to become Big to succeed. We need a holistic solution that makes sense for our region and our community. Over the years, we have realized that we live in one of the most exciting food regions in the world — let's call this a "Regional Foodshed." By allowing ourselves access to products and produce, which we source from small to medium-sized growers and makers, based all the way from the tip of Baja going south, to Washington State going north, we will have access to just about everything we need through the year to eat "regionally;" and we can also benefit from the existing infrastructure for a smooth and streamlined process to move these products. For items that we cannot source regionally, we have Fair Trade for things like coffee and quinoa, and in turn we can support our broader community of like-minded growers and producers.
Sustainability for a company like ours will reside also in serving an appropriately sized delivery area, and so we shall limit our growth to areas we can deliver to overnight – that means growing beyond our SoCal delivery area to parts of Arizona, Nevada, the Bay Area, and eventually we envisage growing to cover the same Regional Foodshed from which we source. In turn, other regions in America are developing regional infrastructure in an aligned way, and we can make appropriate exchanges as well. This is the path to thrive, not just survive.
Let's remember, our goal is to build a regional food system to protect our environment, sustain organic farmers, and nourish families. Farmers and makers must be paid fairly, animals must be raised humanely, packaging must be kept to a minimum, and re-used whenever possible – all in all, every step of the process, from seed to fork, must be thought through with planet and people in mind.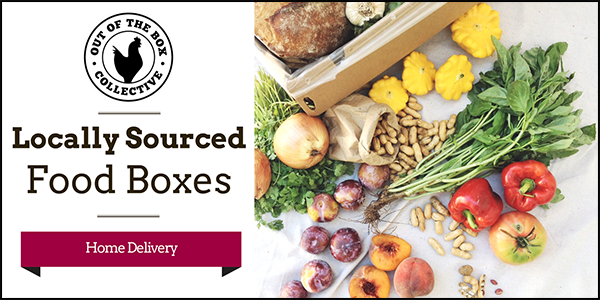 Keeping It Human 
But how do we make this happen?  We need people like you who want to be a part of a thriving, holistic community — a community that actively chooses to invest their food dollars in a healthy and robust food system, instead of companies that keep prices artificially low by externalizing costs to society. You, the People, are our strength. You, the People, are the way we can stand up to massively capitalized ventures.
This is an investment for all the stakeholders who take part in this mission.  It's an investment in our collective health, in our community, and in our future. This is the triple bottom line that we must all consider with every purchase. Now, with the current political situation, it is as important as ever – even more important – for people to take a stand with their checkbooks – not just in regards to their food, but everything they buy. Let's support the growers and makers in our community who choose organic.  Support our children to eat clean, local food. Cook as if our planet depends on it. Let's cultivate this community and drive a massive force that can write a different future than the the future the One Percent is scripting. We will support each other, we will build a resilient community, and we will be strong.  We will resist.
So, yes, as an increasing number of people spread the word, vote with their pocketbook, change the paradigm, recognize the difference between Big Money and the real deal, the conversation will change. Let's make Big Food and Monsanto irrelevant and powerless; let's say "no" to money that thinks it can buy our hearts, minds, and bodies, pollute our soil, and feed us poison. Together, we will show others how to change the conversation and grow something unique and healthy in this New Community.
We can do this: #resist #foodmovement #keepitreal.
Jennifer Piette is the founder of Out of the Box Collective and is committed to creating a sustainable local food distribution system for her community.
Born and raised in Washington DC, educated at Phillips Exeter Academy and Amherst College, Jennifer lived in France, Portugal, and the UK, working as a screenwriter and film producer for 23 years before moving to LA on New Year's Eve 2007 with her husband and three children.
Since returning to the U.S., she is increasingly convinced of the fundamental role that our food systems play in the environment, our health, and our economy. With Out of the Box Collective, she is building a sustainable, user-friendly food system that will nourish and educate our children, as well as move our Food Dollars into our local community.
Submit your story or essay to Buzzworthy Blogs