Candice Nicole, the owner of HUmineral, is on a mission: to put trace minerals back into HUmans.
Growing up on the East Coast, Candice began nurturing a healthy lifestyle at a young age by eating fresh, leafy greens and herbs from her family garden. It was an aunt who initially introduced her to the concept of "nutraceuticals," and that relationship has since culminated in an unwavering dedication to holistic wellness.
Ten years ago, before starting HUmineral, Nicole was working for a supplement distributor when a pamphlet on humic acid caught her eye. She decided to research this intriguing substance further – an elemental decision that would alter the course of her life.
The holistic health community has long known about how fulvic acid benefits the human body; composed of various colloidal and ionic liquid minerals, fulvic acid supplements are prolific. But what hasn't been explored are the benefits of humic acid, which is derived directly from peat humus.
Indeed, the fulvic minerals long found in supplements are just a portion of the humates in humic acid. And farmers have been using complete humic acid substances for centuries to nurture their plants and animals. But, oddly, the more complete compound is only now coming into its own, thanks to pioneers like HUmineral, as a detoxifier, energy booster, and mineral supplement for humans.
In today's culture of quick fixes, taking daily vitamins is not enough. Our bodies often need help delivering vital nutrients to our cells before they get flushed out of our systems. Humic substances make nutrients more absorbable and allow cells to purge what they don't need.
But, most importantly, Humic acid contains lots of polyphenols, antioxidants that help the body utilize oxygen optimally while controlling potential damage from free radicals. By hydrating cells and moving through the body to create oxygen, humic acid optimizes the way we take in nutrients and excrete waste.
"The first time I took humic acid was a revolutionary moment. I took it at noon, and by two o'clock, it was like a light bulb went on in my head. The next day, I felt lighter. I felt a clarity," says Nicole. "I felt more cleaned out, which I found out later was because the body eliminates toxins more efficiently after taking humic acid."
From that moment, she was converted. A self-professed health-conscious individual with a dedication to helping others achieve better health, Nicole has been taking humic acid every day for nine years.
"I'm a healthy person and I believe health is a lifestyle. It's what we choose to think, what we eat, and our exercise routine that determines our health. You know how you feel and you can see how you look." Nicole shuns the oft-used advertising claims of anti-aging. She insists that HUmineral products are "age-healthy." Humic acid doesn't stop aging. "It just ages you well, with benefits such as decreased joint pain and better hydration."
Pursuing Purity – HUmineral
Navigating the giant that is the holistic-health industry is difficult. In the beginning, Nicole found it challenging to sell the idea of humic acid as a product. While sourcing raw materials for HUmineral, she did her due diligence to make sure she was selling a clean product. It took her eight months to source pure ingredients and figure out dosages and bottle sizes. The final products that emerged are humic supplements that are organically derived from a freshwater source, organically manufactured without any chemical cleansing, and dosed to make a real difference.
Naturally, one wonders what, after her years of research and hard work, Nicole's prime motivator for starting HUmineral was. The answer is simple: people. She receives messages every day from people whose lives have been changed by humic acid. Nicole says their stories often bring tears to her eyes.
There is the woman from Simi Valley with a lung condition who says she wouldn't be alive without HUmineral Immune Boost. Another customer visited 27 different doctors who told her there was nothing they could do about her condition; after her first dose of humic acid, she experienced an almost immediate recovery.
"I've always loved helping people. I think we are all here to do that. We are created to help each other. But we have to find our mission, what we are meant to do. Humic acid is definitely a large part of my mission. I get incredible joy out of what I get to do with HUmineral, and I'm changing people's health," says Nicole.
"Everything I did prior to HUmineral was preparation. The future is unknown, but I know I am moving in the direction and on the path I was created for." We come from the dust and return to it, so it makes sense that the soil can heal us. Humates are the manna of life; the most powerful electrolytes on the planet. And thanks to Nicole and her products, they are available to help make us all healthier.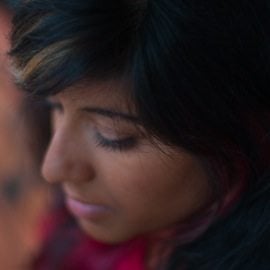 Maya Bastian is a wanderer at heart, a dreamer by nature, and an artist when the inspiration strikes. She has won awards and internationally exhibited her films, which run the gamut from narrative shorts to documentary, to experimental animation. As an author, she has published her poetry and personal essays online and in a diverse array of anthologies. Maya's recent endeavors include writing her first narrative feature film and creating video installations for various events and galleries. You can find a selection of her film and video work on her YouTube page. Previously based out of Toronto, she is currently exploring the world in search of further insights and enlightenment.
Submit your story or essay to Buzzworthy Blogs.