Black mold is gaining more attention for all of its negative health impacts. Even worse,  you may be constantly inhaling it and allowing it to live inside of you. Mold may be lingering in the walls of your home, your clothing, in the ventilation of the buildings you work in, and so many more places you wouldn't imagine. We created the Black Mold Begone Bundle to help you detoxify, destroy mold, and bring back balance to your health.
Black Mold Exposure
Black mold exposure is no joke and comes with a lengthy list of symptoms that are usually unnoticed due to its association with other health ailments. Symptoms of black mold include:
coughing and wheezing
stuffy and runny nose
red and itchy eyes
itchy skin
sore or itchy throat
nosebleeds
headaches
frequent chest colds
difficulty breathing
allergic reactions
inflammation of the sinuses
general fatigue and lethargy
Long-term exposure can lead to:
memory loss
trouble concentrating
sensitivity to light
nerve issues, such as numbness in the hands and feet
general pain and cramps
unexplained weight gain
Black Mold Begone Bundle
Our Black Mold Begone Bundle features two of the most efficient products you'll need to wage ware against the mold in your body.
1. As a highly soluble prebiotic, Propol Prebiotic Fiber works as a binder that attracts mycotoxins (mold) are attracted to. And since Propol is highly soluble and stable in the digestive tract, it promotes clean and easy expulsion of toxins with bowel movements.
2. Silver Excelsior is our top seller for a good reason. Antibiotics are quickly losing the war against harmful microbes, but silver is an all-natural and all-purpose antibiotic that destroys harmful body invaders while leaving healthy bacteria in tact. Mold won't stand a chance against the power of silver.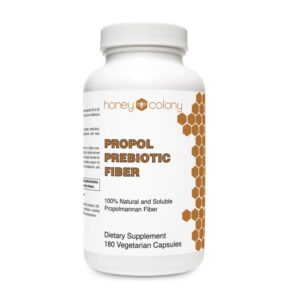 Our Propol Prebiotic Fiber features Shimizu Propol® A propolmannan — a highly pure and naturally soluble fiber. Propol A is created from Amorphophallus konjac-derived glucomannan using proprietary processing techniques. This fiber has been studied for its stability through the digestive tract and for promoting bowel regularity, as well as other key functions, including:
Satiety
Weight control
Glucose metabolism
Cholesterol metabolism
Healthy bowel movements
Propol also serves as prebiotic for intestinal bacteria and aids in removing mycotoxins and mold from the body.
While a healthy diet and exercise are essential to good health, adding supplementary soluble fiber offers additional benefits. Not all fibers are the same, so when selecting fiber there are many things to consider. Each fiber is unique in origin, purity, viscosity, and overall stability once ingested. In fact, even one type of fiber can vary greatly in quality. Amorphophallus konjac, a tuberous plant, is a rich source of the soluble fiber glucomannan. This fiber has an exceptional ability to absorb water and is one of the most resistant dietary fibers available.
Stability Through The Digestive Tract
Due to the unique processing, Propol A remains intact in the digestive tract — another key factor in fiber functionality. Viscosity and stability, taken together, produce a highly effective material that, once in the digestive tract, attracts water and forms a viscous gel-like substance that slows digestion. This delays the emptying of food from the stomach into the small intestine, slows down the influx of carbohydrates and fats into the bloodstream, binds to bile acids, and impedes dietary fat absorption.
Satiety And Weight Control
Soluble fiber is known to act as a bulking agent in the stomach and intestine, which signals to the brain that there is no longer a need to eat. Studies suggest that glucomannan supplementation significantly reduces weight due to limiting unnecessary foot intake.
Soluble fiber also slows the absorption of carbohydrates, which influences the release of insulin and the rate of fat storage. With decreased fat storage, the body can focus on burning the already present fat to help maintain weight — this also helps control cholesterol metabolism.
Healthy Bowel Function, Prebiotic
Glucomannan not only allows more water to remain in the stool (making waste softer, larger, and easier to pass through the intestines), but it is also an excellent prebiotic. Glucomannan reduces mouth-to-large intestine transit time compared to placebos, while also improving defecation frequency, easing bowel movement, increasing the fecal concentration of lactobacilli as well as the daily output of bifidobacteria, lactobacilli, and total bacteria.
Propol Prebiotic Fiber is essential and necessary for anyone looking to create stability and control of how the food they eat transitions throughout the food, and most importantly how the food impacts total health.
Suggested Use: Take three to six capsules once per day, or take three capsules 30 to 60 minutes before each of your two biggest meals, or use as directed by your healthcare practitioner.
Why We Love it:
Supports weight management
Promotes healthy cholesterol
Aids in healthy digestion
Rigid three stage purification process
Free from wheat, gluten, corn, yeast, soy, animal or dairy products, fish, shellfish, peanuts, tree nuts, egg, ingredients derived from genetically modified organisms (GMOs), artificial colors, artificial sweeteners, or artificial preservatives.
Helps the removal of mycotoxins and mold from the body.
Silver Excelsior Serum

Silver Excelsior Serum can change your life! Many times more powerful than the popular colloidal silver, this serum uses chelated silver to create a 200X more bioavailable natural immunity booster to fight harmful bacteria, while leaving good bacteria intact. That means no worrying about antibiotic resistant superbugs, new gut health issues, or the toxicity that comes with pharmaceutical antibiotics.
When it comes to immune boosting, Silver Excelsior Serum can be used:
During bacterial and viral infections

In fighting off sore throats and ear/eye infections

To relieve sinuses and upper respiratory issues infections

To fight Urinary Tract Infections (UTIs)

For the prevention of plaque buildup, tooth decay, and bleeding gums

To relieve food poisoning

symptoms

For the disruption of mold and mildew buildup

To support relief from cuts, sores, and boils

To limit the reaction and discomfort of insect bites and rashes

Athlete's foot and nail fungus
Why Silver Excelsior Serum? Chelated Silver: A Biologically Superior Form Of Silver
Formulated as extremely potent bioparticles, Silver Excelsior Serum works hand in hand with your body's cell structure. Most silver solutions can't fully bond to living tissue, limiting their bacteria-killing capabilities. The chelation process attaches silver molecules to amino acid molecules (chelators). These chelators are then able to bring the silver into the body so that each particle of silver can come in contact with the infected area. 
Does Silver Oxide Kill The Good Bacteria?
Unlike pharmaceutical antibiotics, silver oxide doesn't kill helpful probiotics along with the pathogens. According to researcher Gordon Pedersen, PhD, ND, "Silver has a remarkable ability to selectively destroy pathogenic bacteria while not causing harm to healthy probiotic bacteria." Chelated silver disables the platform from which harmful bacteria and black mold grow, keeping them from multiplying.
Can NOT Cause Resistance
You've heard that bacteria such as MRSA is mutating and becoming resistant to the most powerful antibiotics. Professor David Avnir says, "Silver isn't vulnerable to the same pitfalls as antibiotics. Silver chemically disrupts pathogenic bacteria's ability to produce cells, but remains impervious to resistance."
Great deal! 
Silver Excelsior (Serum) is a chelated silver oxide, that is both bioactive and bioavailable and priced at below $80. We've truly uncovered the best of both worlds – ridiculously low pricing with incredibly effective results.
How Much Silver Excelsior Serum Do I Need
One dropper full of Silver Excelsior Serum equals 40 oz of highly potent 100 ppm chelated silver solution when mixed with 8 oz of pure or distilled water. Add one full dropper (fills about 3/4 of the way) per small glass of water (8 oz) to create a 100 ppm solution that is sufficient for any condition. Best on empty stomach. Repeat if necessary next day.
Please Note: Due to supply changes our current batches of Silver Excelsior are off-colored from their usual clarity. We've spoke with our supplier who has done numerous tests on each component of the Silver Excelsior, and  we assure you that the silver quality is exactly as it's always has been. If there's any sediment at the bottom of the bottle, this is concentrated silver particles. Shaking regularly before use, should break the deposits apart.
Why We Love it:
Natural immunity booster that bacteria will never grow resistant to

Increased bioavailability for quick absorption

Can be used with any water-based liquid

including fruit juice, etc.

Boosts immunity when bacteria, viruses, infections, superbugs, and parasites are present

Travel friendly with the ability to assist with combating infections and  bacteria

Boosts immunity for sore throats, ear infections, and eye infections

Supports immunity to clear sinuses and alleviates upper respiratory issues

Boosts immunity to alleviate Urinary Tract Infections (UTIs)

Helps prevent plaque buildup, tooth decay, and bleeding gums

Reduces food poisoning

symptoms

Fights mold and mildew buildup

Provides relief from cut, sore, and boil discomfort

Alleviates itches occurring from  insect bites and rashes

Alleviates athlete's foot and nail fungus

Soothes burns, including sunburns
Disclaimer: The statements made regarding this product have not been evaluated by the Food and Drug Administration. The efficacy of these products has not been confirmed by FDA-approved research. These products are not intended to diagnose, treat, cure or prevent any disease. All information presented here is not meant as a substitute for or alternative to information from healthcare practitioners. Please consult your healthcare professional about potential interactions or other possible complications before using any product.