Book a Functional Medicine Consult with Maryam Henein, who specializes in autoimmune conditions.
Maryam, it was delightful to talk to you this morning.  Your knowledge of alternative and holistic methods coupled with your insight and delightful personality make you an exceptional mentor in the health journey. Thank you again for all of your helpful insights.  ~ Victoria Laird
Customers regularly reach out to ask if our Simply Transformative solutions will help them heal their health condition. Healing is a holistic multi-pronged approach. If for instance you are taking hemp oil but drinking alcohol and eating processed or pesticide-laden foods, the product won't work to its potential. Diet and lifestyle are key. Food is truly thy medicine. And while there are similarities and patterns when it comes to diseases, we must look at you as a unique individual. 
We know that many people are not satisfied or comfortable or both with the health information they're receiving. We know this because we have a large customer base that contacts us for help via our live chat.  That's fine, but think about his: Aren't you worth more than a typed response via live chat?
Consider speaking to a wellness authority and supportive mentor who will steer you in the right direction and offer you tons of resources and suggestions. You can do so via a consult.
Holistic Approach
Maryam Henein can offer you a holistic approach to health and wellness, which means that she looks at how all areas of your life are connected. Maryam is an investigative journalist who has been studying and covering health and wellness for almost 15 years. She went through a slew of health problems herself, which led her to become an authority when it comes to autoimmune conditions and our food supply. She was hit by an SUV and dragged 49 feet and the physical toll on her body as well as the stress she dealt with in the aftermath made her a prime candidate for an autoimmune condition.

Western Medicine let her down and the trauma instigated a cascade of health issues. She applied her sleuthing skills and ability to connect the dots to help heal herself. After reversing lupus and fibromylagia she started studying metabolomics and functional medicine. She uses that same toolkit when speaking to individuals who don't know where to start on their healing path.

Maryam is also the founder of HoneyColony and director of the award-winning film Vanishing of the Bees, narrated by Ellen Page.  Her interest in the plight of honeybees has led her to discoveries applicable to human health and well being. For example, pesticides that have decimated millions of honey bee colonies worldwide are also responsible for compromised immune systems in humans that manifest in an assortment of illnesses.

If you suffer from an autoimmune problem, then Maryam can be of service and help you heal.
As a functional medicine coach, she will motivate you to cultivate positive health choices, while educating and supporting you to achieve your goals through lifestyle and behavior adjustments.


Why We Love It:
As an investigative journalist, Maryam asks lots of pertinent questions and knows how to connect the dots to uncover the underlying issues.

She will suggest supplements, tests, books, and give you simple tips to put you on track.

Maryam has gone through her share of health issues from being run over by a car to being diagnosed with lupus and fibromyalgia. Let her strife and research save you time and money. Do you really want to spend years trying to fully understand how to heal?
Maryam is not just spewing back things she's learned in a textbook. She has firsthand knowledge and has reversed her autoimmune condition and found vitality.
Maryam helps people every day navigate health issues and will give you 50 minutes of undivided attention.
Maryam is furthering her knowledge by studying at the Institute of Functional Medicine.
Maryam will then email you a list of things discussed to set you on your way to healing.
Ask A Question (15-Minute Consultation)
True Healing acknowledges that issues with the physical body can offer spiritual lessons. Reverence for our body temple allows us to raise our vibration and become a clearer channel to reach our full potential.
What can you learn from your physical ailment? What is your body trying to tell or teach you? Patience? The need to slow down? An addiction that is tied to suppressed emotions or trauma? 
Throughout my life's healing, every time I encountered a disease, chronic pain, or an ailment, I was offered an opportunity to break a pattern and stretch my spirit toward reaching its full potential. It wasn't easy. Living in chronic pain can drive you mad and make you angry toward life.
Creating a Relationship
Listening to the body requires developing a relationship with your body temple.  I had to go on a journey within, and thankfully along the way, I found different healers to hold my hand. Being able to learn from someone who has been in pain and suffered severe health conditions would have been appreciated. Especially if they could have combined the spiritual aspect with diet and nutrition.
I've learned that part of this journey on earth involves reconciling with your mortality and recognizing that the spirit is eternal. In this lifetime, you must agree to learn certain lessons and most of the time it's the flesh and disease that forces you to change and live in a better way.
For years, I've been working with people as a coach and/or consultant in the realm of functional medicine. While Western Medicine is compartmentalized and myopic, functional medicine goes to the root and considers the interconnected relationship of all things. Now, I am combining my intuitive psychic skills to help find out what is the lesson being asked to learn and how you can make real changes for mind, body, and spirit.
Pain Is A Teacher
Pain has taught me patience. Fibromyalgia taught me to slow down and also reconsider foods that are really just poison to the body, mind, and spirit. Breaking my femur and being outfitted with titanium taught me that persistence is genius. I never thought I'd walk, let alone run again.
A lot of times you learn something new about yourself in difficult situations, but you don't make lasting changes to sustain these valuable lessons. That's because the lesson is not fully integrated into your life or you don't have a consultant to help you understand what is truly at stake. A lot of people need a spiritual guide steeped in positive psychology to hold their hand through this learning process to help them become their best self.
15-Minutes To Start Healing
Consults and coaching sessions are available, however, if you do not want a full-on consult or coaching session then you can book a 15-minute session for only $34.34. You'll be able to ask a question and I will pull a card from a special archetype deck that I work with.
The question that you ask doesn't have to be based on physical health. It can also be a question to help heal your spirit or heart. I'm also clairaudient and clairsentient and use my psychology degree to channel guidance for your highest good while addressing karma, patterns, mindfulness, astrology, and spiritual direction.
If you so wish, you can address complaints that include
fatigue
food sensitivities
joint pain
gastrointestinal issues such as bloating, constipation, and diarrhea
anxiety
depression
weight loss
prediabetes
hormonal imbalance
and autoimmune conditions.
This 15-minute session is dedicated to YOU and your health and spiritual needs. I am here to guide you.
Maryam Henein is not a doctor. She is a resource and educator with a wealth of information when it comes to health and wellness and our food supply. Read more about her work in the VoyageLA feature.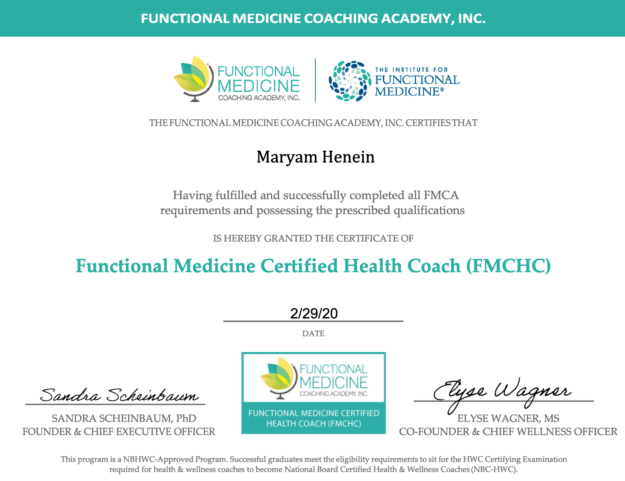 Once you book, go here to set up your session. She will then send a questionnaire to fill out.