World's Most Natural Toiletries
It's time to trash your mainstream personal care products and treat yourself to the purest products on earth. After two years of scrutinizing labels, we've handpicked six (6) must-have natural toiletries, designed to cover all your hygiene and protection bases.  These natural toiletries harness the healing powers of Mother Earth instead of poisoning you with harsh chemicals and toxins:
Best Natural Antiperspirant

:

Food-Grade Edible Deodorant Stops Bacteria; Doesn't Block Pores Or Lend To Cancer
Best Organic Silver Ointment: Food-Grade Neosporin
Best Natural Suncreen: Food-Grade Sunblock
Best Food-Grade Vaseline Alternative: Nutroleum Jelly
Natural Halitosis Remedy: Organic Food-Grade Breath Spray That Eats Bacteria.
Best Natural Itch Remedy: Food-Grade, Edible Calamine Lotion
Did you know that between makeup, personal care, beauty products, and perfumes, the average US woman applies about 168 chemicals to her face and body every single day? Meanwhile, there is growing concern that the combined chemical body burden is linked to cancer and reproductive issues.
We're exposed to 82,000 synthetic chemicals every day, including:
Heavy metals such as aluminum in i.e. deodorants and other synthetic chemicals are also used in industrial manufacturing processes to clean industrial equipment, stabilize pesticides, and grease gears.
Antibiotics found in soaps and topical creams like Neosporin lends to the worldwide antibiotic resistance epidemic.
Cancer-giving preservatives such as parabens found in sunscreen
Petroleum goop and other crude oil products like lipstick and Vaseline
Endocrine-disrupting compounds (EDCs)
This Essential Six-piece Travel & Natural Toiletries Collection will help you detox from mainstream brand chemicals. You can say goodbye to antibiotics, heavy metals, and chemically intrusive brands.
All of the natural toiletries in this tote bag are the result of over 10 years of research and are a testimony to nature's healing power.
Whether your next adventure is in the backyard or the Amazons, this kit will keep you safe.
Research these natural toiletries and the science behind them, the market, and the testimonials below and start your own journey of Healing Through Cleansing.
Secure your own Simply Transformative Essentials Tote Kit now full of natural toiletries.
Item customization enabled. Supplies may be limited and cyclical. The same package of natural toiletries is also available without a tote bag here. 
Details on the Six Natural Toiletries Included In The Package
1) Best Natural Antiperspirant: Food-Grade Edible Deodorant Stops Bacteria, Doesn't Block Pores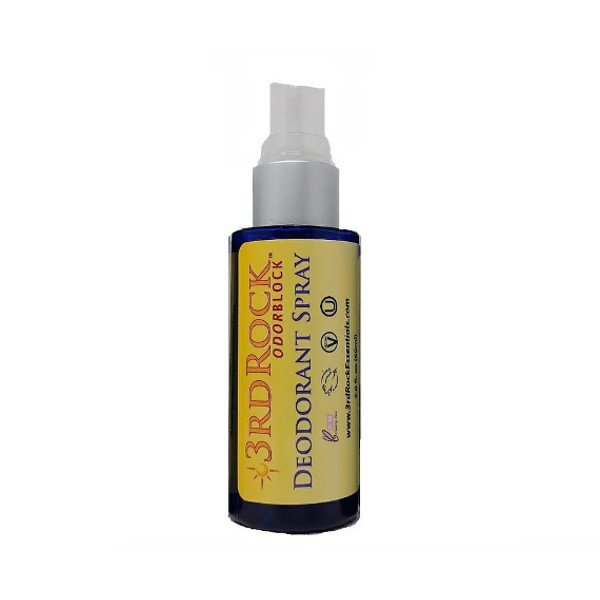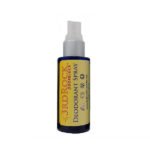 ODORBlock is non-toxic, alcohol-free, aluminum-free, paraben-free, and fragrance-free. ODORBlock is all-natural and eliminates odor-causing bacteria. It's made from totally safe, organic, food-grade, edible ingredients. It provides all the protection you need out of deodorant, and it also:
Effectively eliminates bacteria without clogging the pores.
Prevents odor better than conventional deodorants and antiperspirants
Lasts longer and is more effective than all-natural deodorant recipes
Contains no cancer-causing agents, such as aluminum, parabens, and synthetic "fragrances"
Applies transparently
Soothes and Moisturizes
Is alcohol-free, non-toxic, and was not tested on animals
Alcohol-free
Non-toxic
Is conveniently pocket- or purse-sized
Why It's A Million Times Better Than Traditional Antiperspirants:
Most drugstore deodorants and antiperspirants contain aluminum-based compounds and/or parabens, which have been linked to a higher risk of breast cancer.
GETTING PERSONAL: "Most natural products simply don't have the muscle to deal with the grind and stress I go through. 3RDROCK is the only natural deodorant product that's been able to put up with my active life style. It's not perfumey, it's not sticky, it's not watery, it just simply works. – Elias Varoutsos, Montreal
Read more about the World's Best Deodorant here.
2) Best Organic Silver Ointment: Food-Grade Neosporin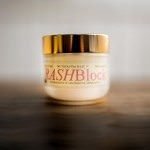 RashBlock (aka "nature's answer to Neosporin") is a non-toxic and petroleum-free first-aid ointment that we believe is the best all-purpose medicine for cuts, scrapes, rashes, infections, bites, and skin irritations.
Our first-aid chelated silver oxide is an ointment with a patented formulation; it has the revolutionary ability to naturally kill bad bacteria without compromising the immune system.
This amazing product has also saved people from Scorpio stings, burns, urinary tract infections, sore throats, and even cold sores in record time! Like all the 3rd block products, it's organic and made of food-grade, edible ingredients. It's a multi-purpose Silver Panacea.
Why It's Better and Safer Than Neosporin and Other Ointments:
If you live in North America, then you are used to seeing Neosporin or a triple antibiotic ointment in every first aid kit. It's applied as a standard procedure on cuts and scrapes – even though there is confirmed evidence that it breeds resistance against the MRSA superbug.
The secret behind chelated silver oxide? Bacteria (plus mold and mildew) need three things to grow: water, food, and a substrate (a surface to which microbes can attach themselves). If one of these components isn't present, bacteria can no longer thrive. Silver oxide makes the substrate "go away," thereby getting rid of the bad bacteria without upsetting the ones that maintain your immune system.
Read more about "Nature's Neosporin" here.
3) Best Natural Sunscreen: Food-Grade Sunblock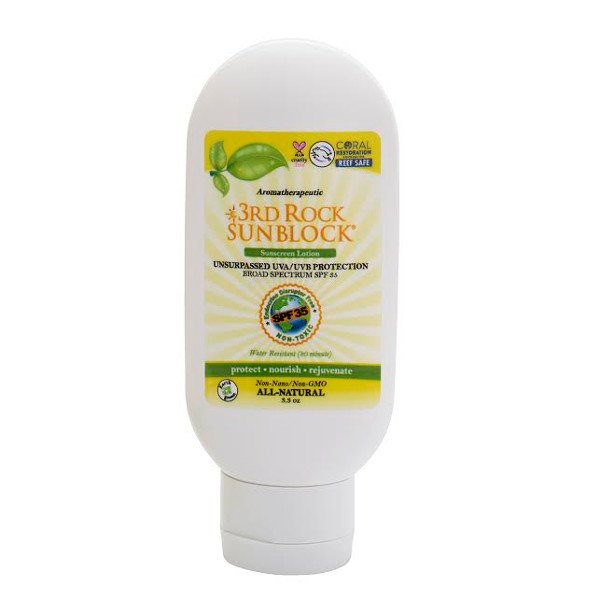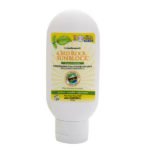 This is the world's best-patented sunblock, made with only food-grade ingredients that are safe for all ages, and which offers unsurpassed UV protection you won't find in any other sunscreen.
Why It's Healthier, Safer, and Better Than Regular Sunscreen:
We all know that we need to protect ourselves against the sun's damaging rays. But scientific studies have linked many of the ingredients in traditional sunscreens to skin cancer!
The chelated zinc oxide formulation heals your skin naturally while protecting it against both UV rays and bacteria. It's the active wonder ingredient in our sunscreen and itch block.
GETTING PERSONAL:"I am elated that such a product as 3rd Rock Sunblock exists!  We have been using other mineral sunblocks for years with the same active ingredient of zinc oxide, but have switched to 3rd Rock Sunblock.  Why?  Because it's the ideal sunscreen according to the Environmental Working Group's criteria: completely blocks the UV rays that cause sunburn, immune suppression and damaging free radicals." -Dr. Susan McCreadie, Holistic Pediatrician, getREALforkids.com
3rd Rock Sunblock is the only patented sunscreen that has total UVA/UVB coverage with 100% non-allergenic, non-comedogenic, immune-enhancing formulation. It's so pure it's edible.
Read more about the World's Best Sunscreen here.
You can choose to auto-ship America's Safest Sunscreen: 3rd Rock SPF 35 during regular intervals here.
4) Best Food-Grade Vaseline Alternative: Nutroleum Jelly
A healthier alternative to Vaseline, Nutroleum "green" jelly is oil-free and food-grade organic. Use it as lip balm, as a diaper rash cream, and to heal and treat dry skin.
Why It's Safer and Better Than Vaseline:
Vaseline is petroleum-based and heavy, and it's water-repellent and not water-soluble. That means that Vaseline creates a barrier on your skin. Though your skin may feel softer when it's applied, Vaseline is actually drying out your pores, in the long run, by keeping air and moisture from getting into your pores.
GETTING PERSONAL: "I use these products daily. There are so many healing uses for all these products that all I can say is… TRY THEM ON EVERYTHING! You will be amazed." – Michelle Gabrielle Carter
5) Natural Halitosis Remedy: Organic Food-Grade Breath Spray
Bad breath can come either from poor oral hygiene or poor digestive conditions. In both cases, the chelated silver oxide in the 3rd Rock breath spray can help alleviate these issues by eliminating dying bacteria in the oral cavity as well as within the gut.
Why It's Safer and Better Than Binaca :
If you read the ingredient list on most breath sprays, it is a long list of unrecognizable chemicals including alcohol. A breath spray just covers up your bad breath and does not treat the condition. Also,  alcohol may actually contribute to your bad breath because it drys out your mouth.
3rd Rock OdorBlock breath spray has zero calories and is made from only food-grade, edible ingredients. It has no preservatives, food coloring, or artificial/synthetic additives.
GETTING PERSONAL: "Best health care products in the world!! You have to try it out!" – Josh Nardone
6) Best Natural Itch Remedy: Food-Grade, Edible Calamine Lotion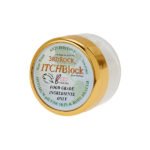 A stronger, more natural version of Calamine, 3rd Rock's anti-pruritic cream provides instant relief from dry, itchy, or irritated skin. It provides instant itch relief,  that lasts for hours, for all types of ailments including dry skin, insect bites, poison oak, ivy or sumac, and itching from unknown causes.
Why It's Safer and Better Than Calamine Lotion:
Calamine lotion is made up of zinc oxide and zinc carbonate, an inorganic salt that is extremely diluted by water, making it only slightly alkaline. Thus, it provides instant but minimal relief from the itch.
3rd Rock's product is only about 25 percent water and chelated zinc oxide, making it very alkaline – and bioavailable for skin cells – causing instant neutralization of acidic skin conditions ( i.e bites, bee stings, jellyfish, poison ivy, and oak. Our product is also in glycerine and pulls moisture into the skin causing rapid healing of the skin irritation as well (Calamine lotion is mostly water that evaporates when putting on the skin).
Another scary ingredient that can often be found within calamine lotions is Pramoxine, a topical anesthetic. Although it effectively enhances Pramoxine's pain-relieving capabilities, it can have a lot of adverse effects on users. Mild side effects include redness, swelling, or new pain in the area where the medication was applied. Severe and uncommon side effects include hives, breathing problems, or swelling of the mouth, throat, or face.
Made of food-grade, edible ingredients, 3rd Rock's Itchblock has an instant effect and is safe.
GETTING PERSONAL: "AWESOME PRODUCT! I know we only tested a small amount on my daughters wrist, however, with her very sensitive skin, not only did it NOT irritate her in any way, it HEALED and CLEARED a mosquito bite she had there! WHAT?! WOW! You see, she is allergic to mosquito's, and she had an old bite there that she had scratched and irritated and although it was in the process of looking much better, three days after the application of your product, 3RD Rock, I noticed NOTHING! No bite, no mark, no skin discoloration…Nothing!" -Lisa Lindsay-Shaw, RACS PSTA Pres., Virginia Beach, VA
Why Do We Need to Detox Our Bathroom Products?
What you didn't know: Chemical ingredients in personal care products are mostly untested and unregulated. Meanwhile, carcinogenic and endocrine-disrupting chemicals are found in many products.
Why is that allowed? Under a law that has not been updated since 1938, the U.S. Food and Drug Administration (FDA) has very little power to regulate what's in personal care products. That means chemicals that are proven to be dangerous and toxic like formaldehyde, triclosan, and phthalates are still legally sold and used all over our country. About 450 ingredients commonly used in the U.S. are banned from cosmetic and personal use in Europe.
Many so-called natural products don't have the science to back them up, or they just don't work. We've partnered with 3rd Rock and put together this tested, exclusive, incredible package because we believe it's the safest and best thing on the market today.
About the Simply Transformative Essentials Kit of Natural Toiletries:
Created by Dr. Guerry Grune, a scientist with a Ph.D. in chemical engineering, all the 3rd Rock products in the kit are food-grade, edible, organic, non-toxic, and ground-breaking. His products are sustainable, renewable, biodegradable, and are never tested on animals.
The secret weapon in his formulations? Chelated Silver Oxide
All of these products are created with chelated silver oxide using proprietary and U.S. patented technology (international patents pending) that has been proven to eliminate harmful bacteria even in very low concentrations (100-200 ppm) – so there is no need to worry about any possibility of toxicity build-up in your system.
Sources:
https://www.webmd.com/health-ehome-9/healthier-hygiene
https://www.hsph.harvard.edu/news/features/harmful-chemicals-in-personal-care-products/
For More Reading On Silver And Antibiotics:
1) Silver Oxide: How I Became a Blue-Blooded Convert One man's healing journey with silver oxide. Why was this ancient healing secret wiped off the medicinal map?
2) Silver Uses For Wounds, Cuts, And Rashes Silver has been used as a significant weapon against disease and infection for thousands of years. But then it conveniently disappeared with the advent of antibiotics. Find out why it's so effective in healing wounds.
3) Does Colloidal Silver Work Or Is It Just A Scam? Colloidal silver is a hot product in the alternative health and supplement market, but does it actually work?
4) What Is Antimicrobial Resistance? Learning From Europe's Fight  Antimicrobial resistance is a real and frightening thing. Learn more about the consequences of antibiotic misuse and abuse!
5) Antibiotic Resistance: Why Neosporin May Hurt More Than It Heals Find out why it's so dangerous to reach for Neosporin every time you get a cut, scrape, or pimple.
6) Four Reasons Silver Is One Of The Best Natural Antibiotics  Scientists are revisiting the potent healing properties that make silver one of the best natural antibiotics.
7)  American Meat Is Pumped Up With More Antibiotics Than Ever Before  The FDA just announced that we are giving farm animals more antibiotics than ever. Find out why this is a major threat to human health, and what you can do about it.
8) 3 Ways To Tackle The Spread of Antibiotic Resistance  Welcome to the age of Antibiotic Resistance where one day soon a simple cold could kill you. This is not some sci-fi scenario but a very real threat.
9) Silver Panacea: Eliminating UTI Symptoms Without Antibiotics! UTI symptoms are the second most common type of infections, accounting for about 8.1 million visits to doctors each year. Wouldn't it be fantastic if you didn't have to take an antibiotic to cure it?
10) Resistance And The Quest For New Antibiotics
With stricter policies and better ways to fund and stimulate the research needed to discover new candidate antibiotics, our current reality may change. If not the consequences will be dire.
For More Reading On Deodorants:
Read about deodorants here:
1) Antiperspirant Cancer Risks: Fact Vs Fiction
2) The Difference Between Deodorants and Antiperspirants
For More Reading On Sunscreens To Add To Your Natural Toiletries:
1) 10 Most Shocking Things About Regular Sunscreen 
2) Before You Play n the Sun: The Truth About SPF And UV Rays
3) Dangerous Ingredients in Sunscreen