You've seen the headlines regarding toxic chemicals: fire retardants in crib mattresses, endocrine disruptors in baby bottles, carcinogens in cosmetics, secret toxic fragrance chemicals. You think, "Well, of course I want to avoid these toxins and find the healthy options." You start out with the best of intentions, and then you discover it's harder than you thought to figure out what's actually safe and what's not.
So you find yourself standing in store aisles, turning over countless products to puzzle over ingredient labels that claim to be "natural," "green," "paraben-free" vs "phthalate-free." You scan your smartphone apps for ratings for personal care products, switch apps to check on a cleaner, and then can't find half of the products you're looking for on any apps.
And then you wonder: Why isn't there something out there that will just tell me once and for all which products are safe?
Now there is. Enter the MADE SAFETM seal. We're here to do the hard work for you.
MADE SAFE means that products are made with safe ingredientsTM, without known behavioral toxins, carcinogens, developmental toxins, endocrine disruptors, fire retardants, GMOs, heavy metals, neurotoxins, pesticides, reproductive toxins, toxic solvents, or harmful VOCs.
And then it goes even further. With more than 84,000 chemicals in use today, and little to no public data on their impact on human health, MADE SAFE goes above and beyond known toxic chemicals to examine ingredients for bioaccumulation (build up in our bodies), persistence (build up in the environment), and general and aquatic toxicity. After all this, if there's still doubt about whether an ingredient causes harm, we exercise the Precautionary Principle and don't allow it in certified products.
And the best part? We're the first and only seal that applies to all consumer products, so you can find MADE SAFE on verified items from baby bottles and bedding to personal care products, cosmetics, cleaners, and beyond. Our early participating brands certifying products include Alaffia, Annmarie Gianni Skin Care, Good Clean Love, Healthy hoohoo, Lullaby Earth, Just So, Naturepedic, Oilogic, Meliora, Pura Stainless, Rejuva Minerals, Sustain, S.W. Basics, and True Botanicals.
Finally, you can breathe easy knowing which items are acceptable to use on your body, with your family, and in your home.
We bet you're thinking, "Why isn't it just illegal to use ingredients that are known to cause cancer or can lead to neurological diseases?" It does seem like a no-brainer to outlaw products containing heavy metals like lead or neurotoxins like PFOA (the Teflon chemical) or harmful endocrine disrupting chemicals like flame retardants.
Unfortunately, our system is so flawed right now that it's nearly impossible to actually regulate toxic chemicals. The legislation that exists, like the 1938 Food, Drug and Cosmetics Act, is woefully out of date for today's ingredients, and the 40-year-old flawed Toxic Substances Control Act is so weak and ineffective it couldn't even ban the notoriously toxic chemical asbestos.
The unfortunate and shocking reality is that no matter where you shop or what you pay for the products you buy, there is no overarching agency established to protect your health and ensure that products don't contain harmful chemicals.
And that's why we exist. MADE SAFE was founded to finally end the chemical conundrum that leaves people wondering what's safe and what's not. We are built on the belief that we should all have the power to make safer choices and avoid toxic ingredients that can harm our own or our families' health.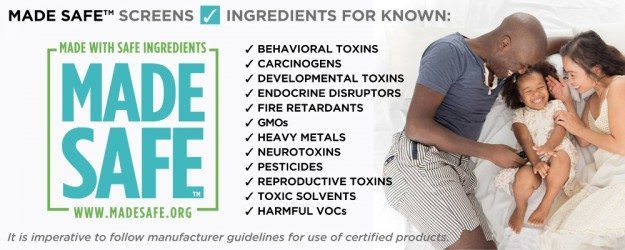 Using the momentum of conscious consumers in the marketplace, we aim to change the way products are made in this country. We give you the power to vote with your dollars for safer and healthier products, to shift consumer products away from toxic chemicals altogether.
Yep, that's right—with your help, we hope to work ourselves out of business one day. Our vision is a world where all products on shelves at stores around the country are made from safe ingredients, a world where people will look back and shake their heads in disbelief that we ever worried about which shampoos might contribute to cancer or which cleaning product might impair our fertility.
Our vision is a healthy future. And we're starting right here, right now, with you. Find MADE SAFE certified products here.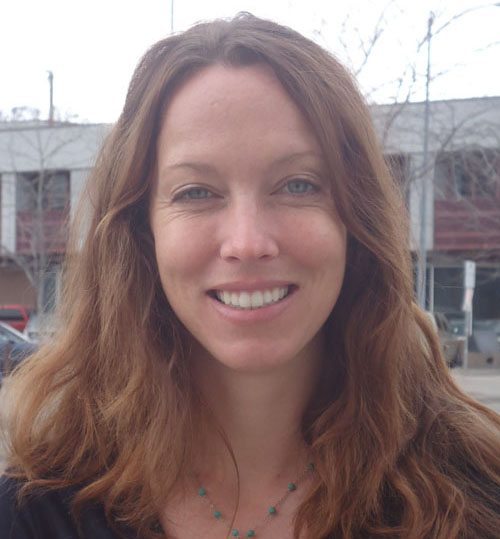 Cassidy Randall is the marketing director of MADE SAFE. She has almost a decade of experience working with companies to eliminate toxic chemicals, from corporate giants like SC Johnson and Procter & Gamble to small startups. She sits on the board of the Savvy Women's Alliance, and was formerly a director of the national group Women's Voices for the Earth (WVE). Cassidy has an M.S. in Environmental Studies from the University of Montana and a B.A. from UCLA.
Submit your story or essay to Buzzworthy Blogs.