Ugly Fruits and Vegetables
Would you eat a carrot with three stems? How about an apple attached to a mini-apple? Maybe a misshapen eggplant? No, this isn't a strange, foodie version of the classic game "What Would You Do?" This is about a real movement — The Ugly Food Movement — and it's taking over the world… one supermarket at a time.
The mission of the movement is simple: opt for "ugly" produce if you're a consumer and make ugly produce available to customers if you're a retailer. The point? To prevent food waste.
According to the United Nations Environment Program, about 20 to 40 percent of all produce is thrown away due to its strange shape, size, color, and overall unattractive appearance.
But, in the past year, grocery stores abroad have become more enthusiastic about selling "ugly foods" to their customers — joining the movement to decrease food waste across the globe with quirky-named programs.
Tesco, a British grocery store headquartered in the U.K.,  for instance, was ahead of the curve when they started selling the "Monster Bunch" — a box of awkward-looking produce — back in 2008.
Since then, several grocery stores in Europe, Australia, and elsewhere have joined in on the mission to save ugly produce from the garbage. In the fall of 2014, Tesco launched a line, "Wonky Veg," in its Ireland stores that sold "wonky"-looking carrots and mushrooms. In the same year, Intermarche, a supermarket in France, launched the "Inglorious Fruits and Vegetables" campaign to put a positive spin on the "hideous orange," the "ridiculous potato," the "failed lemon," and many other non-pretty produce items. Monoprix and LeClerc, other grocery shops in France, also joined in on the ugly food movement, selling misshapen fruits and veggies and naming the program Les Gueules Cassées,
"Busted Faces" and "What You Looking At?" (Very funny, Frenchies.)
Outside of Europe, countries like Australia and Canada have also done their part in the ugly food movement. Programs like "Produce Misfits" exist in stores like Red Hat and Safeways across Canada; and you can find lines like "Imperfect Picks" and "The Odd Bunch" at Harris Farm Markets and Woolworth's in Australia, respectively.
The names for some of these international ugly food programs may be funny, but the statistics surrounding food waste are certainly not. According to numbers provided by the U.S. Department of Agriculture, farmers in America throw away about more than six billion pounds of fruits and vegetables that are "too ugly" to sell in supermarkets because they don't reach cosmetic standards.
And what's glaringly obvious is that compared to countries abroad that are getting on the ugly food bandwagon, supermarkets in the States are slow to adopt the praiseworthy practice of supplying unfortunate-looking fruits and veggies to customers.
But that's not to say there aren't people in the U.S. trying to make it happen. Jordan Figueiredo, who works as a solid waste specialist at the Castro Valley Sanitary District in California, runs the Ugly Fruit and Veg Campaign in his free time. His Twitter handle @UglyFruitAndVeg boasts almost 15,000 followers and features photos of ugly produce with clever captions.
Figueiredo began the campaign because he noticed something at work: people were content with solving the food waste problem by composting rather than salvaging the food in the first place. Ugly foods were being thrown away by farmers who knew retailers wouldn't want less-than-pristine produce in their stores.
Watch this French campaign:
Intermarche – 'Inglorious Fruits and Vegetables' from Goodvertising on Vimeo.
So, Figueiredo started dealing with this serious problem in a comedic way: finding funny pictures of ugly fruits and vegetables and posting it online. (I mean, who doesn't want to see Grumpy Cat's face in an apple or a strawberry with two legs asking you to dance?)
"The problem is ridiculous," Figueiredo says. "We're wasting food that's a little too big, a little too small… But if I can make it fun, maybe I can get more people interested."
And he has. On top of his growing following on Twitter and Instagram, Figueiredo has also gotten hashtags like #DemandUgly, #UglyIsBeautiful and #RealVegHasCurves trending on social media.
Of course, Figueiredo isn't the only activist in America trying to bring ugly produce to the forefront of people's minds. Dana Cowin, the editor-in-chief of Food & Wine magazine, talked of the importance of ugly food and her publication's #LoveUglyFood campaign during this year's TEDxManhattan conference.
There's also the launch of Imperfect, a startup that delivers "cosmetically challenged" produce to customers in the Bay Area of California.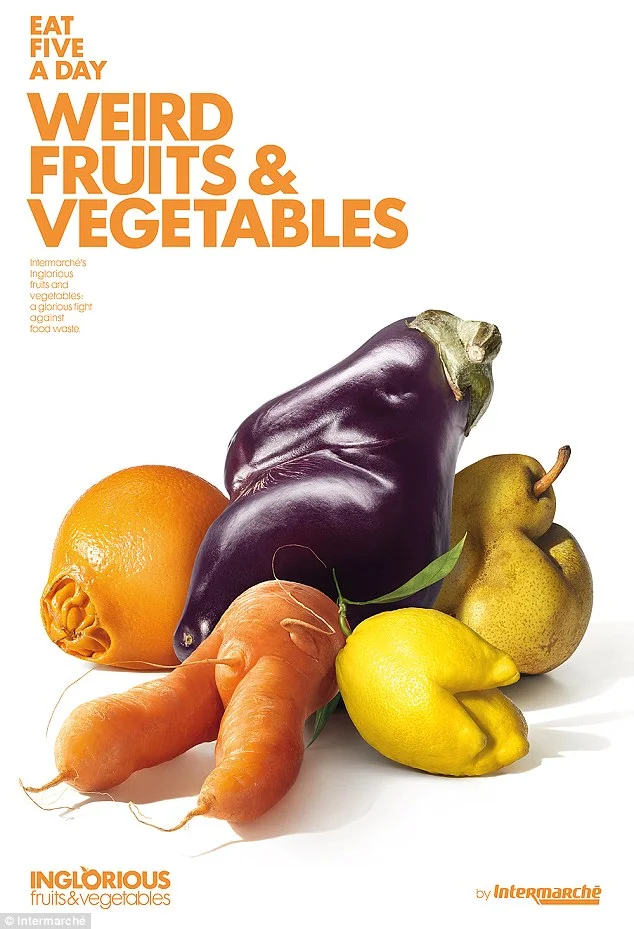 Run by Ben Simon and Ben Chesler, the company aims to reduce food waste and save people money, selling boxes of produce for $12 a pop, which is about 30 percent cheaper than the same stuff you'd get at a standard grocery store — albeit a little more ugly. The company is currently taking online orders and will send off their first home deliveries on August 7.
But that's just the start. Imperfect has also drafted a deal with Raley's, a supermarket chain with over 100 stores in California and Nevada. Working with Imperfect, the chain will launch a pilot program in mid-July that'll make ugly fruits and vegetables available at 10 stores in Northern California.
That's right: Raley's will be the first major supermarket chain in the U.S. to carry ugly produce.
"We're really excited to work with them," Chesler says. The pilot program will act as a test to see if consumers are into buying ugly produce at a discount.
"The beautiful thing about it is that it tastes the same [as regular-looking produce]," Chesler says. "So as soon as people realize that, hopefully there'll be a change."
The greater goal for these ugly food activists is to get more U.S. supermarkets on board. Last year, it was European grocers that were making a big splash about buying ugly produce. Maybe this year, it'll be America.
"I definitely think we're there," Figueiredo says. "I think it's only a matter of time before more grocers start doing this. It's going to happen any month now… maybe any week now."
Here's hoping.
Adriana Dermenjian is a writer, a reader, and a lover of all things "better living." She studied Online Journalism at the University of Southern California and loves a good story, whether she's reading it or writing it herself.
Submit your story or essay to Buzzworthy Blogs.