By Nikki Lyn Pugh, MFA, HoneyColony
With their impressively large assortment of natural products covering everything from acne treatment to skin and eye care, exfoliators, toners, soaps, deodorants, and shampoos, Zatik Natural may be the only brand you need to keep in the bathroom.
Except for maybe toilet paper, they don't make that…yet.
The name means "ladybug" in Armenia, where husband and wife team Gary and Ovsanna Mktumyan called home before moving to Glendale, California and eventually joining the green cosmetics revolution in 2007. Even hobbyist gardeners will no doubt get the reference – ladybugs help eradicate pests without the use of toxic pesticides – but Gary says the name speaks to the larger ethos of the company beyond a dedication to toxic-free living.
"The ladybug is one of the 'good guys'," he explains. In the same vein, Zatik is one of the "good guys in our increasingly chemical-laden beauty industry."
According to the Breast Cancer Fund, the mainstream cosmetics industry "uses thousands of synthetic chemicals in its products, [including] everything from lipstick and lotion to shampoo and shaving cream. Many of these same substances are also used in industrial manufacturing processes to clean industrial equipment, stabilize pesticides, and grease gears."
Additionally, many of them, including such gems as phthalates, parabens, and lead (yes, a ton of lipsticks still have lead in them) have been linked directly or indirectly to obesity, infertility, learning and memory difficulties, adult-onset diabetes, cardiovascular disease, cancer, and hormonal imbalances in both women and men.
For Gary and Ovsanna, Zatik represents the delicate equilibrium of the natural world, a balance the company vows to maintain. As such, all of its products are handmade in Glendale, using fresh raw botanicals cultivated on USDA certified organic farms without the use of GMOs. Their facility also undergoes yearly compliance inspections by USDA-accredited certifying organization, Oregon Tilth.
Gary, who is a chemist by profession, explains how the focus on sustainable, green products was part of an overall lifestyle change for him and his family, driven in no small part by his exposure to pharmaceutical practices.
"I worked in big pharmacy companies developing drugs for years, so I could see first-hand the potency of these drugs and their side effects," Gary explains. "This led me to want to create something that was still potent but was also safe."
Not prone to rush, Gary says it took roughly 15 years of tinkering to pin down his approach, combining his scientific mind with a spiritual dedication to cleaner living.
"The turning point was when I decided to use the knowledge I had in chemistry to work with botanicals to create safe remedies for beauty," he says. "And yes, I changed my lifestyle as well."
The process of creating an actual company that produces, markets, and sells natural and organic beauty products was an equally gradual process for the couple. The idea first surfaced in 2004, after which they began "playing around with ingredients" through 2005, mostly giving samples to family and friends for feedback. By 2007, they were selling their products in farmers markets across Southern California.
During those initial years, the couple began to embrace simplicity and understand the strong power of Mother Nature. "We learned to clean out our cabinets from pharmaceutical medicine and started using herbs, teas, and extracts to cure any ails that affected our family," adds Ovsanna, who handles sales, marketing, new accounts, customer service, and accounting.
Today, Zatik Natural carries roughly two-dozen products, all formulated in-house, including handmade soaps such as a Blue Cornflower Soap with manuka honey, an Orange and Vetiver deodorant made with safflower and organic clover, toners mixed with lavender and licorice, as well as luxurious shampoos infused with coconut and a collection of all-natural face products and lotions.
Gary assures that the entire line is produced at room temperature so as to avoid any degradation of nutrients and that nothing is ever tested on animals. The line is also 100% vegan and fairly priced.
"Our goal is to make our products affordable so that people can try safe products and detoxify their lives," adds Ovsanna.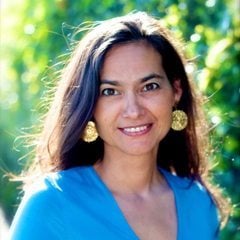 Nikki Lyn Pugh, MFA is a writer, teacher and life coach who lives in Taos, NM. When she isn't writing articles, coaching or working on her novel, she is teaching the next generation of honey lovers at the local elementary school in Taos, NM. She can be reached at AsYourWord, her website .
Related Articles: