The Silver + Black Cumin Bundle features our top-selling immune supporter, Silver Excelsior, and an ancient inflammation regulator with Zatik's Black Cumin Seed Oil.
1. Silver Excelsior Serum: Silver has been used for centuries for its health properties. Our Silver Serum is easy for travel, doesn't require distilled water, and can be used with any water-like liquid for rapid benefits.
2. Black Cumin Seed Oil is becoming very popular due to research that shows it can reinforce the immune system and regulate inflammatory cytokines during obstructive respiratory disorders. Zatik's Black Cumin Seed Oil is made of genuine Egyptian seeds, which are of the highest quality and offer the best thymoquinone potency.
Silver Excelsior has been our number one seller these past two years because it naturally supports immune response. Black cumin seed oil is an ancient supplement that has supported anti-inflammation response going back as far as King Tut's grave. Together, the Silver + Black Cumin Immunity Bundle offers a one-two punch of natural immune support.
Zatik's Black Cumin Seed Oil Supplement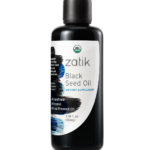 Zatik's Black Cumin Seed Oil Supplement is an all-purpose oil that invigorates, enriches, and helps maintain overall health. Black cumin is an ancient seed that has been found in archaeological sites, including King Tutankhamun's grave. This miracle seed has been used for centuries to promote health.
Found in southern Europe, northern Africa, and in Asia Minor, black cumin seed comes from a bushy, self-branching plant with white or pale to dark blue flowers. In folk medicine, black seed oil has been used to support your health while dealing with illnesses such as bronchial asthma, headaches, dysentery, infections, obesity, back pain, hypertension, and gastrointestinal problems.
Zatik has delivered premium quality cold-pressed Organic Egyptian black cumin seed(Nigella sativa) that contains these three key ingredients:
Phytosterols, which promote healthy blood cholesterol levels
Tocopherols, protect cells and tissues against oxidation and advanced aging
Thymoquinone, which studies suggest may reduce inflammation and ailments that arise from cellular mutation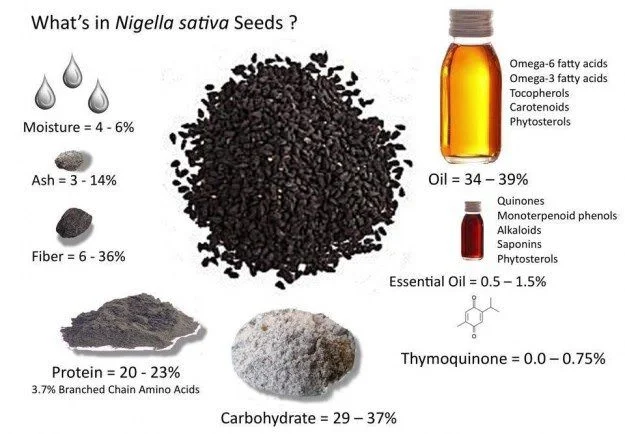 The cold-pressed process preserves all the health benefits of the seed as it is transformed into oil. Historically, it has also been used to fight bacteria, viruses, helminths, and fungus. Modern medicine has shown black cumin to have anti-inflammatory properties and provide relief from joint ailments.
Why We Love It For Our Silver + Cumin Bundle:
Made in the USA in an NSF GMP Certified Facility
Unrefined premium quality organic cold-pressed oil for maximum health benefits
Contains thymoquinone which aids in balancing cholesterol
Contains the potent antioxidant thymoquinone
Contains tocopherols, which supports a healthy immune system and boost metabolism,
Contains Omega fatty acids for a healthy heart and artery
Warning: If you have any medical condition, are pregnant, nursing, or taking any medications, consult your doctor before use. Keep away from children.
Silver Excelsior Serum can change your life for the better! Many times more powerful than the popular colloidal silver, this serum uses chelated silver. That means, no worrying about antibiotic-resistant superbugs, new gut health issues, or the toxicity that comes with pharmaceutical antibiotics.
NOTE: The whole bottle of Silver Excelsior is a 4,000 parts per million (PPM) chelated silver concentrate, which is up to 800 times stronger than a typical colloidal mix you buy in a store. You only need a drop or two in a glass of water to have a superior silver mix, which is why it is also the market's most cost-efficient solution.
Silver Excelsior Serum can be used for immune support. Immune boosting is essential:
During bacterial and viral infections
For fighting off sore throats and ear/eye infections
For relieving sinuses and upper respiratory issues infections
Fighting Urinary Tract Infections (UTIs)
For the prevention of plaque buildup, tooth decay, and bleeding gums
To relieve food poisoning symptoms
For the disruption of mold and mildew buildup
To support relief from cuts, sores, and boils
To limit the reaction and discomfort of insect bites and rashes
Does silver oxide kill the good bacteria?
Unlike pharmaceutical antibiotics, silver oxide doesn't kill helpful bacteria along with the pathogens. According to researcher Gordon Pedersen, Ph.D., ND, "Silver has a remarkable ability to selectively destroy pathogenic bacteria while not causing harm to healthy probiotic bacteria." Chelated silver disables the platform from which harmful bacteria grow, keeping them from multiplying.
Suggested Use:
Use a dropper (approx. 8 drops) in 8 ounces of any water-like liquid to make pure 100 ppm chelated silver oxide in solution. Stir gently before drinking. Each bottle of Silver Excelsior contains about 660 drops – and a single ounce of our product will give you 40 ounces of 100 ppm of silver oxide in a liquid.
One ounce of Silver Excelsior Serum equals 40 oz. of highly potent 100 ppm chelated silver solution when mixed with 8 oz. of pure or distilled water. Eight drops per small glass of water (1 oz.) will provide a 100 ppm solution that is sufficient for any condition. Best on empty stomach. Repeat if necessary the next day.
Please Note:
Due to supply changes our current batches of Silver Excelsior may be off-colored from their usual clarity. We've spoken with our supplier who has done numerous tests on each component of the Silver Excelsior, and we assure you that the silver quality is exactly as it's always has been.
If there's any sediment at the bottom of the bottle, this is concentrated silver particles. Shaking regularly before use should break the deposits apart.
Why We Love It For Our Silver + Cumin Bundle:
Natural immunity booster
Increased bioavailability for quick absorption
Can be used with any water-based liquid including fruit juice, etc.
Travel friendly with the ability to assist with combating infections and  bacteria
Boosts immunity for sore throat, ear infection, and eye infection response
Boosts immunity to support sinuses and upper respiratory issue response
Helps prevent plaque buildup, tooth decay, and bleeding gums
Reduces food poisoning symptoms
Fights mold and mildew buildup on surfaces
Alleviates discomfort of cuts, sores, and boils
Alleviates itches occurring from insect bites and rashes
Alleviates athlete's foot and nail fungus
Soothes burns, including sunburns