Holidays can be far from joyful for many people. In fact, many people feel holiday blues for reasons ranging from financial insecurity to family fights to seasonal affective disorder. The end of the year is fraught with expectations, and expectations lead to disappointments.
Personally, when I'm being told to feel a certain way, I feel guilty when I don't. Holiday expectations remind me of a family I once saw while at Disneyland (a concrete monument to sensory pleasures), where a father was aggressively instructing his weary little boy to "Have fun or else!"
I also feel more guilt this time of year about participating in a culture that celebrates over-consumption and measures success on getting more expensive material stuff. In recent years, I've managed to limit holiday blues and morose introspection by packing the end of the year with more of the simple things: friends I can laugh with, dim sum and a movie on Christmas day, spending less on gifts and asking for less in return. Here are 14 ways you can combat your end-of-the-year / holiday blues and appreciate what is actually going on.
How To Beat The Holiday Blues
Volunteer. It's difficult to dwell on your personal problems when you're focused on a worthy cause. It builds self-esteem, reduces feelings of alienation, and gives life authentic purpose.
Limit or Skip Sugary Treats. Who needs sugar crashes on top of emotional holiday stress?
Eat More Winter Veggies. Winter crops include carrots, spinach, leeks, kale, and broccoli. Honestly, there's no mood that a hot bowl of carrot ginger leek soup can't help. Also, pack those power greens in with a fresh juice to combat all the salty carb and meat laden dishes bouncing around.
Take a Long Walk. It doesn't matter if you live in the 'burbs, the city, or in a cottage in the woods with no running water. A simple walk is one of the best cures for stress. Consider it a walking meditation. Count your steps, pay attention to your breath, and observe the intricate details of your surroundings.
Stay Home. If your family is toxic, skip seeing them. Spend time with your chosen family. Sleep in, read, nap, do anything rather than mindlessly obey obligations without properly examining them. It doesn't benefit anyone.
Buy Small. Buy less. Boycott crowded malls. Reduce the amount of plastic junk going directly to landfills. Support small businesses and local artists instead of department stores.
Exercise. On average Americans gain one pound during the holiday season. However, getting exercise has more important benefits than simply combating that bloat. Boosting endorphins improves mood in a natural way. Whether it is Vinyasa yoga, running or dancing to a Bollywood workout video, the best form of exercise is the one you actually do and can help beat the holiday blues.
Declutter. According to feng shui, a cluttered home is stagnant and depletes energy  – but it doesn't take an expert to come to this obvious conclusion. Don't give gifts that will be more clutter in other people's homes. Donate your unwanted clutter to charity.
Get Creative. Write a poem, take some photos, learn a new song on your guitar. Creation is always a positive force.
Turn Off The News. The catastrophes of the day can wait if you are feeling brittle. Activism and self-awareness has to be balanced with time to recharge. Watching the news or listening to nonstop NPR won't change the course of world events. There will inevitably be more updates on Syria after you return from a break.
Celebrate Your Nest. Animals stay in theirs while it's cold – why can't you? Decorate it just the way you want. Shamelessly enjoy those blankets solo or with your honey.
Read an Actual Book. Not a blog, magazine, or Facebook post. There's nothing like getting lost in a physical book made out of real paper. In fact, log off from Facebook altogether for a social media vacation.
Take a Day Trip. Pick a direction and drive. Take a wander and break the monotony of your routine. I'm always shocked to remember that there are so many beautiful places to go within an hour of my apartment.
Remember Gratitude. Whatever you focus on only grows bigger, including the bad stuff. Instead of worrying about what is going wrong, make a list of the things you are grateful for. Some of the most overlooked ones include living indoors, having nourishing food, the ability to breathe, a brain to think with, and of course the genuine loving relationships in your life whether they be blood or not.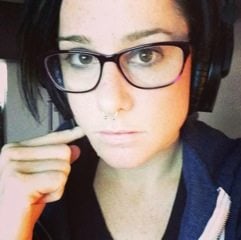 Tawny Scarlet Sverdlin is a San Francisco-based recovering English Major and librarian who currently works in digital marketing. When she's not writing and managing web content for her day job, she enjoys hitting a yoga class, laughing hysterically, taking long city walks, petting the neighborhood dogs, concocting new juicing recipes, or trying to stay in loving kindness on public transportation. She has never said "no" to a good adventure or a piece of dark chocolate.
Submit your story or essay to Buzzworthy Blogs.