By Steve Breitbach

While in the midst of a natural-foods revolution across the globe, we can safely say Los Angeles is the epicenter of the movement. Within this universe of raw dairy, organic, fresh-pressed juice bars, and 50 different brands of kombucha, a budding subgenre of honeybee products is emerging. And among the myriad offerings slated to satisfy Los Angelinos' palate for raw, organic superfoods, one product stands out as an attention grabber: Virgin Raw Food Bee Panacea.
bee pollen benefits
Founded by Monika and Gosia Kozdrowiecka, Virgin Raw Foods Bee Panacea is currently gaining the attention of international celebrities like Victoria Beckham, who seems to be on a roll promoting the stuff. This product has also caught the attention of world-class surfer, Laird Hamilton, who mentioned it in the latest issue of Men's Journal.
A meticulous blend of organic superfoods and honeybee-themed products, Virgin Raw Foods Bee Panacea is the Queen Bee from a colony of entrepreneurs, such as Bloom Honey, HoneyColony.com, and yours truly, HiveMind Bee Pollen. Although, we here at HiveMind consider ourselves the scrappy runt of the litter, founder and self-proclaimed Bee Pollen Evangelist Steven Breitbach's relentless enthusiasm for sharing his knowledge of bee pollen benefits with anyone and everyone has begun paying off.
To be sure, this is at least true in the sense that the Kozdrowiecka sisters have invited Steven and the bee pollen benefits of HiveMind's product into their bee panacea family. As of this week, the three L.A.-based bee entrepreneurs had a meeting of the minds, so to speak, and the results of this meeting at Virgin Raw's West Wood penthouse are great news for the natural foods movement and anyone who loves products from the hive. Just as in nature, synergy tends to draw together people with similar ideas and intentions, and the combination of Bee Panacea and HiveMind Bee Pollen is a match anticipated for some time.

bee pollen benefis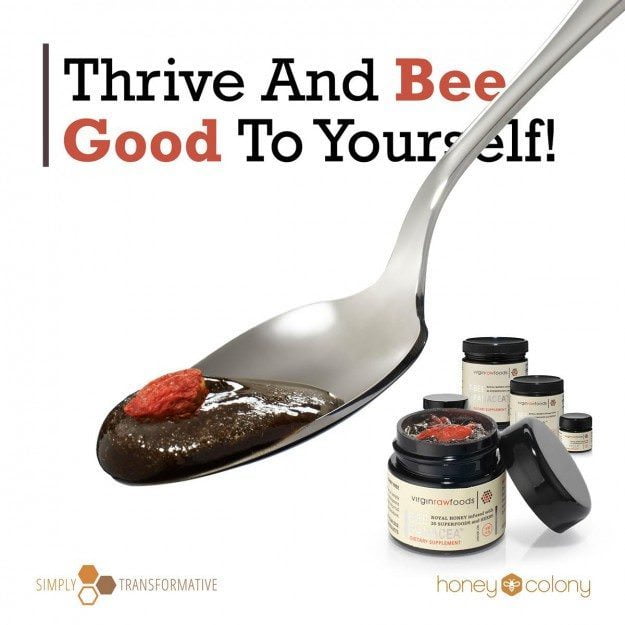 "We are very particular about the ingredients that go into our product. We only include the best of the best," Gosia said. "HiveMind Bee Pollen has a great reputation as the highest quality pollen available and Steve (Breitbach) has a reputation for honesty and integrity, so it's a good fit for us."
bee pollen benefits
At HiveMind Bee Pollen, we agree with Gosia. We're equally pleased to be working with Virgin Raw Foods' famous founders, who have brought one of the most powerful superfood blends to the market and have done so with a clarity of purpose, style, and integrity that's inspiring.
Almost from day one of demonstrating our bee pollen at Erewhon in West Hollywood, people have been saying that HiveMind and Virgin Raw Food should collaborate. We're very pleased to announce that our product's bee pollen benefits will now be included in Monika and Gosia's Bee Panecea recipe. We look forward to this relationship with great hopes for expansion and growth in the near future.
bee pollen benefits